The story of our Leather Moto spans two generations and thousands of miles. Inspired by a classic café-racer, the original belongs to our Product Designer, Nick, by way of his father, Albert, who bought the jacket back in 1973.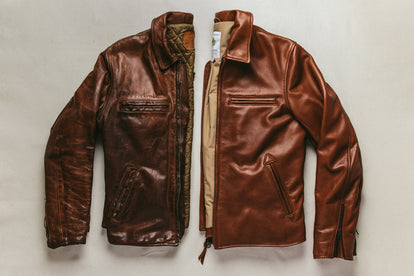 Albert was a military man with time on his hands in Boston. Cloistered for months on a nuclear sub, he bought himself a brand new Kawasaki Z1 and planned to ride across the American south with his buddies. Albert was looking for a jacket while wandering into Walter Dyer Leather, a now shuttered leather shop in Framingham, Mass. Albert had long pined for a rich, brown, café-style jacket, and as he rode up to Walter Dyer, his dream jacket—a slim cut cafe-style racer in smooth whiskey calf—shone through the window.
Turns out, the jacket was made right around the corner from our office at Golden Bear.
The very same jacket Albert picked out over forty-five years ago was made by Golden Bear, our neighborhood leather shop here in San Fransisco. We took it over to Schirley, the owner, who recognized it instantly: "This one's old," she said, "we made this for a small men's shop near Boston." Schirley tore through rows of manila folders and pulled out the exact leather swatch. She showed us the before-and-after; what started out as a rich whiskey leather had burnished to a rich, burnt sienna color. Schirley stepped back into the Golden Bear production area, and ten minutes later brought out the original pattern card. We pored over every detail, admiring how well it had worn over time, and talked over how we could reinforce the jacket to make it even better.
Today, we offer Albert's very same Moto Jacket in original Whiskey Steerhide coloring, as well as a re-release of our fan-favorite Espresso Steerhide and Black Steerhide. New to this year's collection is the same future family heirloom with a streamlined take. We're excited to release The Band Collar Moto Jacket in the same perennial colorways as our classic silhouette: Whiskey Steerhide, Espresso Steerhide, and Black Steerhide. Nothing in your wardrobe will last as long as a good leather jacket, and Albert's jacket has been riding strong for near-on half a century. Today, our leather Moto is a true testament to enduring design, and the high water mark of a product that's responsibly built for the long haul.