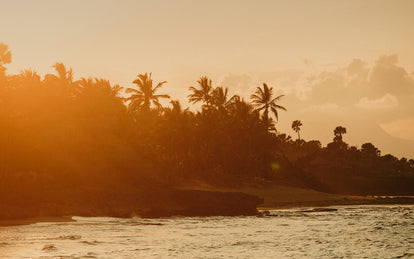 Water must never be a reason for rivalry or competition. Water must be a source of cooperation and of shared security and prosperity. Let us remember that water is our primary source of life. So this is also, fundamentally, an existential challenge and a moral obligation.

Former UN Deputy Secretary-General — Jan Eliasson
Part 1 — The Problem
Water is everything. It is incredible—one simple molecule is the basis for life as we know it. When NASA develops missions to explore the deepest corners of the known universe in search of aliens, they don't look for life—they hunt for water. Water = life. No water, no life.
It stays liquid at the right temperature. In its solid state, it floats, keeping lakes, ponds, and streams insulated and teeming with life in the colder months. The surface tension properties of water allow it to "climb" the world's tallest trees without the expense of energy, and those same properties are the fundamental reason our circulatory system works. Its charge and polarity make it an almost universal solvent, allowing nutrients to be dissolved and directly delivered to cells in need. It's like magic.
But you don't need to understand the physical and chemical properties of water to grasp its significance. It is intrinsic to our biology. You've been thirsty; you drink water every day; you know how important water is. It falls from the sky and covers the majority of our planet. We have underground water and polar ice cap water. It's everywhere.
However—and this is a BIG however—1 in 6 people (that's 1.2 billion people) don't have reliable access to potable water, our most vital resource. Clean water access is not universal, and when contaminated, water turns from indispensable to outright terminal. All told, the lack of access to safe drinking water is responsible for more deaths each year than all violence in the world, and that includes war. The UN reports, "At any one time, close to half of all people in developing countries are suffering from health problems caused by poor water and sanitation." For us, clean water = life. No clean water, no life.
The statistics here aren't absolute, and this crisis is solvable. Although a finite resource, if we do the math, there is enough water to go around. The solution starts with better access, management, and technology. There are 26 diseases immediately alleviated with simple filtration. Through management, technology, and action we can provide access; and with access, there are measurable increases in "personal and civic well-being, increased overall health, reduction in poverty and increased opportunities for education and employment, all contributing to the overall advancement of individuals and their communities."
When it came time to launch our latest Sailor Twitch Collection, a collection rooted in the California surf lifestyle, we wanted to push beyond the bounds of our normal rhetoric and find a way to create tangible impact on the quest for global water accessibility. We found the perfect partner in Waves For Water and planned a trip and broader initiative to deliver water filtration resources to communities most in need in the Dominican Republic.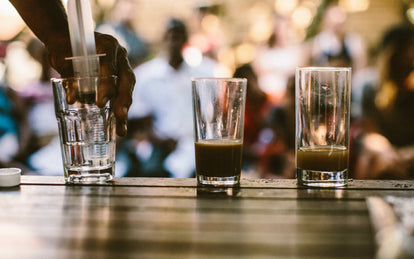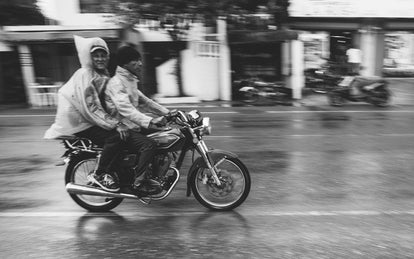 Part 2 — The Trip
Boom, right in the face like a soft-handed smack from an old friend. After 12 hours of travel and a switch of continental coasts, we felt the humidity unexpectedly pelt us as we deplaned our flight in the Dominican state of Puerto Plata. We knew it would be different than our Northern California homestead, but the slight shock of the environment would foreshadow a trip that with every turn in the road and with each sunrise would amaze us with the ability of location to continuously surprise, delight, and challenge the perceptions of our reality.
If you somehow find yourself stranded on a desert island and have to figure out a way home, this is the crew you choose.
After accumulating bags from an airport capable of hosting only seven commercial airplanes at a time, we headed out to meet the rest of the scallywags assembled to implement change in the form of "Guerrilla Humanitarianism," as coined by Waves For Water. We were introduced to pro surfers Hans Hagen and Benny Bourgeois, Brent Lievsay from W4W, local guides-surfers-fixers Ivan Herrera, Pedro Fernandez, and Papo, and reunited with our good friend and artist Ty Williams. If you somehow find yourself stranded on a desert island and have to figure your way home, this is the crew you want, no lie. You might not know them, but they will become your friends and compatriots. Unconditional respect for the compiled talent of this group.
But, like the extra pair of laces that come with some new shoes, fresh friendship was an added bonus in the ultimate purpose of the trip. We were all there to provide clean drinking water.
Each day we woke up, ate breakfast, and got right to work. Traveling to four distribution sites, we would deliver filters directly to the communities that would use them. A less than traditional approach, W4W's methods are distinctly DIY. Like the punk bands recording to tape in the 90s and hawking them at the show — not concerned with bureaucracy and red tape but working directly with the end user to see results now. And while we know there is an ecosystem of philanthropy and politics needed to solve the problem we tend to feel like the work this crew has done, is doing, is of the utmost importance.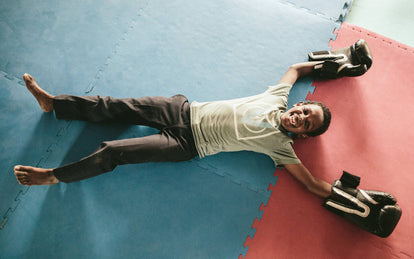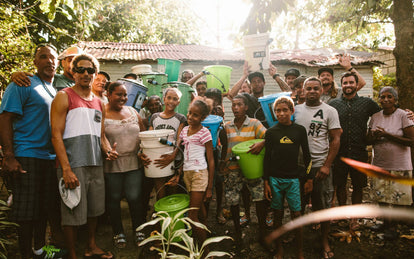 Part 3 — The Solution
Get bigger, get better. As Taylor Stitch grows, so too does our ability to initiate positive change. We are committed to social responsibility and environmental accountability. Since the inception of our company, we have made our products in places best known for responsible manufacturing, with fabrication techniques built to persist, and out of fabrics that not only serve longer but look better with age. As well, we've created a better buying platform with our crowdfunding Workshop, keeping excess from being produced and ultimately out of the landfill. We're working to take this ethos further. That means working to be 1% better everyday.
During our six days in country, we were able to deploy 100 filter kits to four communities in need. 100,000,000 gallons of clean water!
We already donated 100% of the funds to make this deployment possible. However, we want to make it so Waves For Water can head back and continue to deliver filters to families in need. We would love to call upon our community to help make this possible. We're donating 100% of the profits from the sales of Ty Williams designed Waterless Heavy Bag Tee and limited edition print. Buy now to show your support and help us and Waves For Water increase access to clean water.