Tradition Retold
When the opportunity emerged for us to work on a collaborative line of products with the legendary Stetson, we were psyched. In many ways, Taylor Stitch is trekking over trails Stetson has been blazing since their inception in 1865: creating timeless, high-quality products that wear in and not out.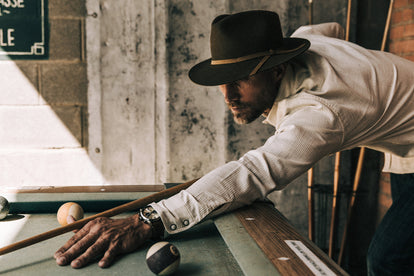 While cooking up some ideas for the collaboration, our Creative Director, Mike, was able to capture a handful of images that showcase the very same process Stetson will use to assemble our Packable Road Warrior in the Workshop. Surprised to say the least, we learned that making a beautifully constructed hat has effectively remained the same for the past century. Hand-assembled at Stetson's factory in Garland, Texas, each product is touched by at least 100 individuals throughout the entire manufacturing process—burning, steaming, and molding along the way. The entire factory uses machinery from the late 1800s, and in order to keep their heirloom equipment humming along, they have an entire engineering department dedicated to fixing each machine with custom-assembled parts.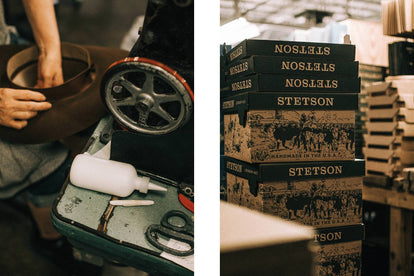 Having the privilege to capture the sweat that goes into each piece was truly inspiring. We didn't realize it until arriving home, but walking through the factory was like stepping into a time capsule—taking us to a time before mass production and mechanical automation. Like Stetson, we're proud of the products we've produced. With gritty hearts and calloused hands, these workers embody the unwavering spirit behind our collection. So go ahead, raise a glass, and proudly tip your hat—Garland, this is for you.