These days, the camp collar shirt is a ubiquitous summertime staple, balancing a touch of off-duty elegance with an effortless, laid back style. While the wide open collar, short sleeves, and breezy build has become a familiar sight on warm weather vacations or balmy nights on the town, you might be surprised just how far back its humble history reaches.
Originating as a traditional worker's garment known as the Guayabera in 16th century Mexico, its lightweight, breathable construction and short sleeves came in handy when days called for hard labor under a sweltering sun. But it wasn't until the design made its way to Cuba nearly 100 years later that the Guayabera traded out its historic mandarin collar for the wider, open collar that is still the silhouette's calling card today.
The camp collar shirt remained a staple in working class farming communities for generations, becoming the Cuban equivalent of the chambray work shirt in the US; which gave us the term "blue collar."
In 1959, Fidel Castro took control of the country, spurring a vast migration of Cubans to the United States as they fled his abusive reign. And so the camp collar shirt (or Cuban collar shirt, as it was better known back then) made its way into Miami and New York, where it shed its workwear roots and began a path towards widespread popularity and pop culture influence.
Carrying with it the exotic allure associated with Cuban culture in the early 20th century, the camp collared shirt offered a comfortable off-hours option for an American workforce that spent most of its time in collar and tie. Soon enough, movie stars, musicians, and literary titans could be spotted sporting camp collar shirts during the warmer months, firmly cementing the design as a modern menswear icon.
Largely unchanged for nearly 400 years, the camp collar shirt is still an indispensable asset in any guy's warm weather wardrobe. At Taylor Stitch, we honor both the design's effortlessly cool silhouette and its working class roots with durable construction, an immaculate fit and finish, and world class materials.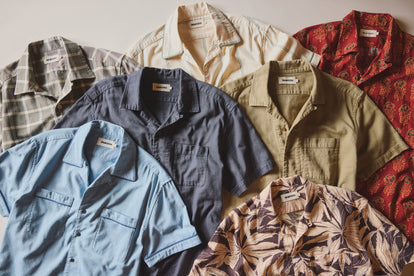 For us, it all started with The Hawthorne; an original TS design that oozes with summertime style and showcases our dedication to the craft with easygoing aplomb. But we're constantly iterating on the camp collar shirt, introducing new materials and tweaking the blueprint along the way. Our Latigo Shirt leans on the classic camp collar design, but updates the recipe with a rich herringbone French terry construction for a big boost in visual interest and texture.
At the end of the day, our allegiance always lies with comfort, durability, and timeless style, finding inspiration in history rather than fleeting trends. After all, there's a long lineage of hard working folks responsible for bringing the modern camp collar shirt into existence, so we honor them by doing our best to perfect it.