Today, we love the chino pant for its hard wearing durability, effortless versatility, and timeless practicality. While you may think of chinos as a safe, office-friendly option, like many menswear staples of today (bomber jackets, white tees, and service boots), this enduring garment has roots set deeply in military applications.
Since the reign of Henry VIII, the British army had relied on bright red tunics as their standard combat uniform (a style still sported by the Queen's Guard.) Since the firearms of the day had to be loaded slowly while standing, most battles boiled down to opposing rows of men taking turns volleying shots at one another. In this form of combat, camouflage was of little concern, and it made sense for fighting forces to wear bright colors so that friend could be easily distinguished from foe during melee exchanges.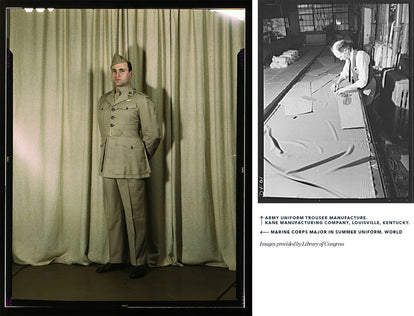 All that changed around the mid-1800s as breech-loading rifles made their way onto the battlefield. Around that same time, the British Army found themselves wedged between India and Pakistan fighting a force that refused to line up and exchange blows but rather employed guerilla warfare techniques, smearing their lightweight cotton garb with dirt and tea leaves to better blend into their environment. It quickly became obvious that they needed to make a change. So soldiers swapped out their target-red tunics for more drab, sand colored garments, calling the new hue "khaki," the Hindustani word for dust.
During the Spanish American war in 1898, US soldiers stationed in Cuba and the Philippines adopted the khaki trouser. Since they were importing the cotton twill from mills in China, American G.I.s gave this new addition to their uniforms the moniker "pantalones chinos," using the Spanish words for China pants. And by 1902, chinos had been officially adopted as part of the official US Army uniform.
As WWII drew to a close, the U.S. Army numbered 8.3 million service men and women, necessitating a titanic stockpile of uniforms. Simultaneously, the G.I. Bill introduced America to a period of prosperity unlike any before, giving citizens access to low-interest mortgages and grants for higher education. Consequently, the Class C Army field uniform (and their distinctive chino pants) infiltrated campuses across America, birthing what we now know as "prep" style.
Since then, chinos have become a cornerstone of men's wardrobes across the globe, and while many makers have turned to lightweight fabrics, combining less durable twills with synthetic stretch materials, here at Taylor Stitch we're more focused on reviving the chino pants of old.
Calling on sturdy, tight weave organic cotton twill and tough-as-nails craftsmanship, our Foundation Pant harkens back to the original battle tested design. Sure, we've tailored them to a more versatile, easy to wear silhouette, but at its heart The Foundation Pant is a hardy standard bearer for the modern chino. We even added some elevated detailing to the design, including burly herringbone accents at the waistband and in the pockets as a nod to The Foundation Pant's military origins. No matter what kind of lifestyle you lead, they'll pick up character with every wash and wear, growing softer and shaping to your body as the years (and the daily battles therein) stack up.
Our Foundation Pant is a celebration of the legacy behind this timeless menswear staple, reimagined for the modern age. Shop our wide range of Foundation Pants, rendered in a variety of colorways and tailored to two meticulously developed fits, Slim and Democratic.