Innovating for Adventure
Every now and again we come across a company whose core values align so closely with our own, they feel like old friends from the very first handshake. Meeting Rumpl founder Wylie Robinson was just such an experience.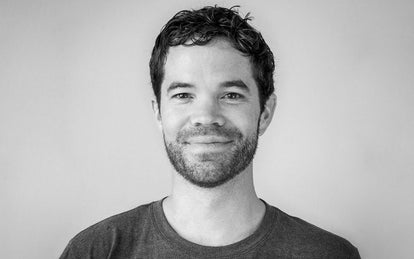 After a scenic skiing trip, Wylie found himself deep down an old dirt road at the entrance to one of California's many secret hot springs (don't worry, Wylie—we won't say which) when his van broke down. Stranded miles from civilization in sub zero temperatures, he hunkered down with a bottle of whiskey and his trusty sleeping bag, waiting for someone to happen by. With nothing but time to think on his hands, Wylie wondered why his blankets back home weren't nearly as effective as the technical gear that was currently keeping him cozy through brutal conditions.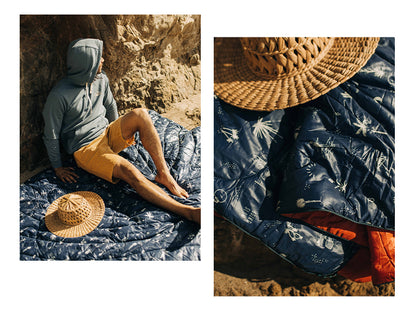 Back in his San Francisco apartment and using a sewing machine borrowed from a friend, Wylie set to work on his first "sleeping bag blanket". While he had faith in the concept, he quickly noticed that the industry standard materials he sought were hardly eco-friendly. As a like minded fellow with "the long haul" in mind and Responsibility at heart, Wylie set out to find a sustainable way to build a better blanket.

An innovator as well as adventurer, Wylie and his team found a way to repurpose post consumer plastic bottles to create the rugged polyester he needed—and just like that, Rumpl was born. One successful Kickstarter and a whole lot of blankets later, Rumpl has saved millions of bottles from making their way to a landfill, and brought fun, rugged gear to adventurers and comfort seekers around the world. While his company has seen some amazing success, Wylie's passion for adventure, comfort, and uncompromising sustainability remains the guiding force behind everything they do.
Well Wylie, we couldn't agree more—so we're proud to present our first ever collaboration with Rumpl; The Original Puffy Blanket in Navy Aloha. From the laid back Big Island vibes with a distinctly CA twist, to the rugged yet Responsible build, we think this go anywhere, do anything blanket ticks every box on Wylie's list, and it more than earns the TS seal of approval.
We hope that next time you're headed to the campsite or hunkering down on the couch with The Original Puffy Blanket in Navy Aloha, you'll think of Wylie's moment of genius out there in his van. Who knows, you may just find some inspiration of your own.
Shop The Original Puffy Blanket