A History in Indigo
For the last several months we've been cooking up something truly special with our friend and one of the most talented artists we've come across—Teresa Misagal of Brooklyn-based Dailola. A true master of traditional Japanese shibori dye techniques, Teresa has earned a position among the top ranks of artists in the space and has picked up much of her craft during time spent in Japan working with traditional dyers herself. Splitting her time between Japan and Brooklyn, she still found time to help us create this capsule collection of totally unique and ultimately very special collaborative pieces—including two visually striking iterations of classic TS shirting silhouettes as well as a limited release of hand dyed bandanas created with natural indigo, each created using time-honored shibori dyeing techniques.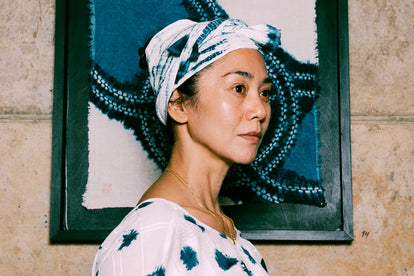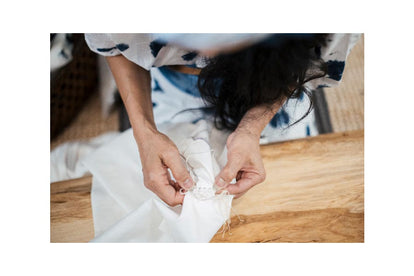 We had a chance to catch up with Teresa recently to chat more about the collaboration and where she finds inspiration for the amazing pieces she creates—
How did you find your start as a dye artist? Was there something specific that piqued your interest or have you just always been on the hunt for creative outlets?
That's a funny story but how to make the long of it short. As I am with most things, it came about out of necessity. I love making things but I also figure, why buy something if I think I can make it. Like don't order something in a restaurant that you know you would make at home and possibly make even better. Several years ago, as a side thing, I started a small artisanal granola company. I became a Smorgasburg (fancy food outdoor market) vendor. When the outdoors grew hot and sunny, I needed to cool off. Rather than buying a sun proof tent, I found opportunity in making indigo dyed fabric to drape and create shade. I had always been interested in indigo and creating patterns but never set aside the time to do it.

Knowing nothing about the process, a Japanese friend and coworker offered her help. Her family lives in Tokushima, the birthplace and center of indigo. Her mother dyes so she knew a bit to get me started. The experience was fun and exciting. When I draped the finished fabric in my tent, it took on a whole new vibe. People were drawn to it and wanted to see what wares I was peddling. The granola business ended up taking a backseat as my attentions turned towards shibori techniques and indigo. I was drawn to it, hooked and wanted to learn more. When you need something, it forces one to be creative, to take a look around and look at the resources available. Make and create. That's how it started.
What is it about shibori dying specifically that speaks to you? 
It takes time and patience. They say opposites attract. For someone who is on the go and often rushing, I learn to slow down. The shibori process, how it reflects Japanese culture and sensibility speaks to me. I love that I can keep learning and practicing. I can strive for perfection but will never be perfect. I love how shibori and indigo complement each other, the subtleties and depth of color and the stitch work that shows the hand of the maker. Indigo comes from the earth and like us, is ever changing as you work with it. It's like a partner I have to work with, be sensitive to its changes and be able to read each vat and know when to feed it. Hm, also kinda like communicating with the Japanese as an American. Think subtly, indirectly and use your intuition.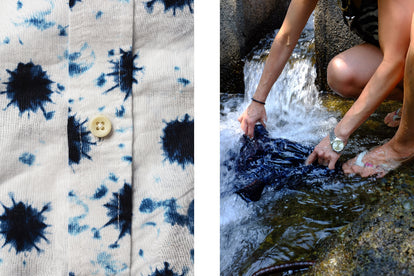 TS: What is the most rewarding thing you've done as an artist? 
If someone sees my work and it resonates with them in some way so much that they want to have it in their world: hung on a wall, laid it on a table or chair, or worn. It just makes my heart flutter and fill with gratitude. Everything I make, I make for me. I ask myself what do I want, what do I envision, what do I love. Making something I love, then to have that touch someone else. Wow. That's a reward. Pass the Kleenex…
Tell us about the time you've spent in Japan? How has that influenced your perspective on art, the world, everyday life? 
Hmmmm, another long but will try to make it short. With lack of finding skilled indigo artists at that time in the US, I visited an area outside of Tokyo a couple times to learn more shibori techniques. After the 2nd trip, I just felt a calling to go back and live a life there. I wanted to find and learn from shibori artists. I packed up my NYC life with the intent to figure out how and where to live with my pup Lola. My quest to find a place to live and to meet shibori artists turned into an exploration. I traveled Japan, from Tokyo to Okinawa and met numerous indigo people. Traditionally in Japan, each step of the dye process involves a different person who has a specialty. So I not only met people who are Shibori artisans but the farmer who grows and processes the indigo and the dyer who dyes the fabric prepared by the shibori artisan.

Aside from the traditional old ways, there is also a younger generation doing all. But this exploration not only led me to meeting and creating an indigo community, I also met designers, potters, woodworkers, restaurant people, just other makers and creators. I found a tribe. Most of these people are now friends who I see every trip. Each trip I try meet more of the same. And most of what I've learned has been trial and error, observation and doing since my level of Japanese isn't good enough to learn directly... Pre-Covid I was in Japan a few times a year for 2-3 months at a time. During those times, I'd schedule trips around the antique market schedule. The markets are a fantastic place to see and touch not just fabrics but everyday items found here. So much of Japanese culture is represented in these markets and fuels inspiration. There is the strong sense of Mottainai, the Japanese philosophy of "let nothing go to waste". It's seen in the repaired boro fabrics that were once an embarrassment, now a beautiful treasure. And the reuse of pottery maybe some even with  kintsugi repair, wooden doors, locks, door pulls, really just anything that people find and reuse in their homes today. And it's not just the items found here, but the people. I connected with antique dealers and fellow market hounds. This is where I met a friend who invited me to exhibit several times in Tokyo. I found that when I began to live my truest self by giving up my everyday NYC life and blindly jumping in to where my heart was pulling me in Japan, the universe began to connect me to people and opportunities that I was ready for without realizing it.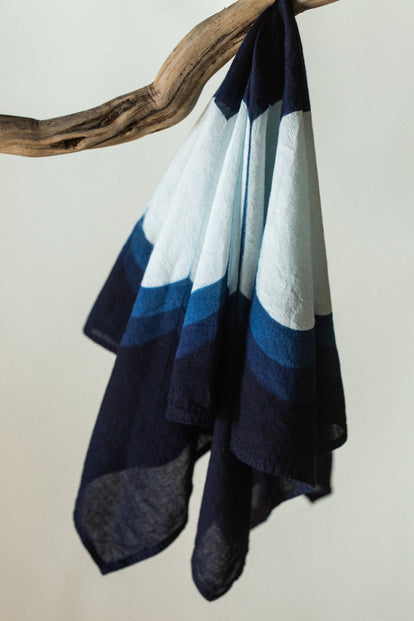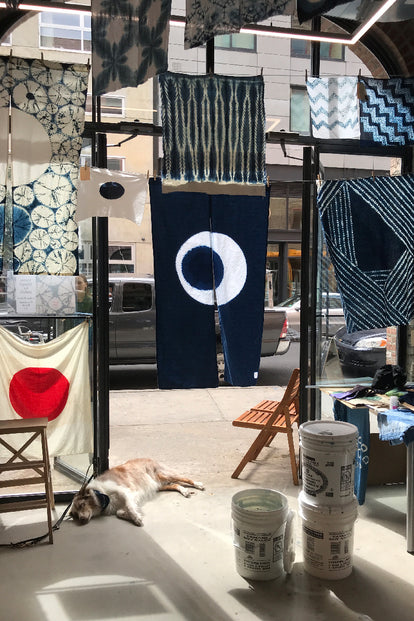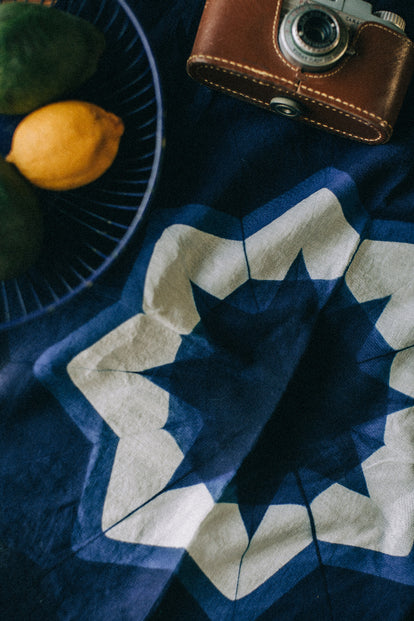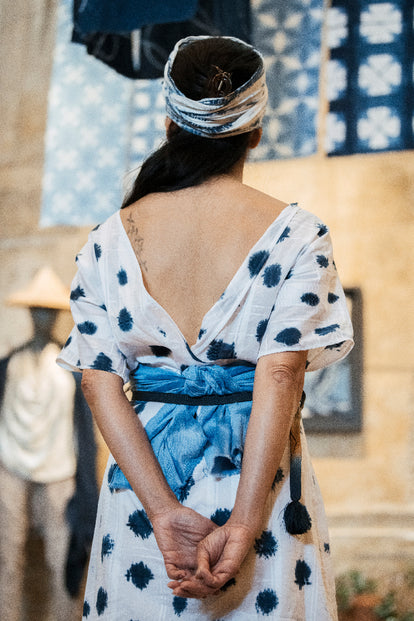 Let's talk about indigo. Can you describe your connection to it (and/or other natural dyes). What makes it so special ?
My background is in photography. When I was in NYU photo school, photography meant shooting film and photo processing. Image making has become instantaneous with the invention of digital cameras, iPhones and androids. Shibori dyeing is somewhat akin to shooting film. You have an idea of what your image will be but you have to wait to process it to see the image revealed. We have to be patient, from beginning to end. I tend to do many things at once and have endless checklists. The indigo dye process is gradual and requires time and patience. In a sense, indigo is a teacher in how to be still. Each piece requires slow movements and manipulation connecting me to it. I live and breathe with it. Why would I rush thru the dyeing process when I've invested so much time preparing it before immersing it? Some pieces have taken a month before they're ready to dye. 

Dyeing becomes a mediation practice and for me, each pattern is pattern with intent. It's not about pretty mistakes but about intent. It's about conviction. If the pattern I try to create doesn't turn out, it's not a mistake but part of the process, a learning experience to make the brain rethink how to patiently try it again and give it another go. Indigo and shibori, teaches me how to slow down and vibrate as my truest self. It has created my tribe, brought me together with like minds whether the members are in Japan, the US, other parts of Asia or Europe. This has been the inspiration for several pieces I've made. Indigo has created connection, just like how TS found me! Nothing is random. I love that.
OK, tell us about those awesome dogs you're always with? 
Ha. Me and my pack of Aussies plus the ever revolving door of foster pups (Additionally, I'll add how much I love fostering. It's an honor to be entrusted with their care and be a stepping stone in helping these fur kids find forever homes. This is the org I volunteer for www.ns4ar.org! I've had Australian Shepherds for over 20 years now. Aussies are beauty and brains. I especially love the colorful flashy merled ones. I have spent so much time with my dogs that they've inspired me to create things. One being the granola biz I had named after the pups at the time Dailo & Lola = Dailola. It was granola for people but all the different recipes were inspired by the pups. Now you know where the name Dailola came from! People say humans and their pets look alike. I can't say I resemble mine in looks but we share traits/characteristics. Aussies are working dogs that can go the long haul, they like having a job to do. Aussies want to learn new things and like a challenge. If one isn't given, they will look for it. They also like to be in a pack yet also like to go off in a corner for their own time out. Sounds like someone I know who is quite often in a social pack yet constantly finds things to do and learn then go off in a corner for her time out.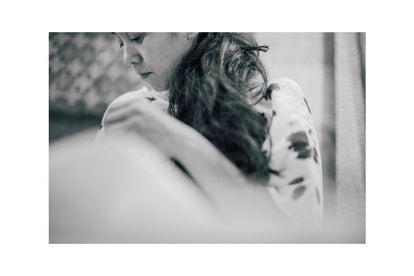 Follow Teresa Misagal aka Dailola at @dailolabklyn and dailola.com/