You've heard it before, but it bears repeating: the clothing industry is obscenely wasteful. As avid environmentalists ourselves, we knew from the outset that if we were going to build a brand, we had to be different from—and better than—our competitors; to build gear that would last For The Long Haul, to source high-quality, Responsible materials, and to be exacting in our practices and choosy about our partnerships. It's no exaggeration to say that protecting the planet and its people factors into every single decision we make, and we're incredibly proud of what we've accomplished thus far. That said, no matter how vigilant we are, things don't always go according to plan. Thankfully, we've gotten pretty good at improvising over the years.
To make a long story short, we recently ended up with extra units of some of our core silhouettes: The Jack in Everyday Oxford and The Chino. Other brands wouldn't think twice about disposing of excess inventory to make room for next season—sending it to the incinerator or, worse still, the landfill—but that's not our style. Rather than simply chalking it up to bad luck and moving on, we knew we had to do right by these pieces, so we reached out to our buddy Maurizio Donadi.
Liquid error (snippets/collection-matrix-special line 3): comparison of String with 0 failed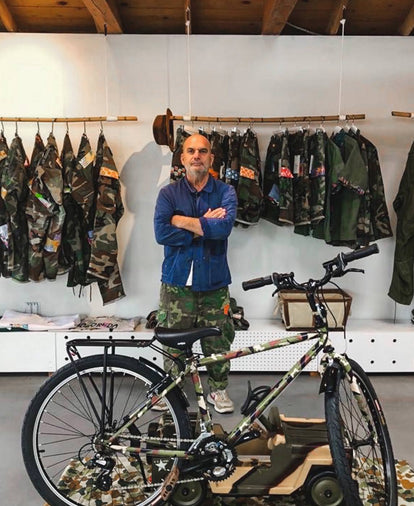 Maurizio, who spent decades bouncing around the industry's upper echelons (including stints at Armani, Ralph Lauren, and Levi's), knows a thing or two about on-the-fly thinking and creative solutions to complicated problems. He's been in this game longer than most, and thanks to his encyclopedic knowledge of fashion's history—and a keenly developed intuition for trends—he's earned a reputation as a visionary tastemaker. After years of lending his talents to other brands, and with his bonafides firmly established, Maurizio relocated to Los Angeles and set up his own operation: Atelier & Repairs. His philosophy is simple: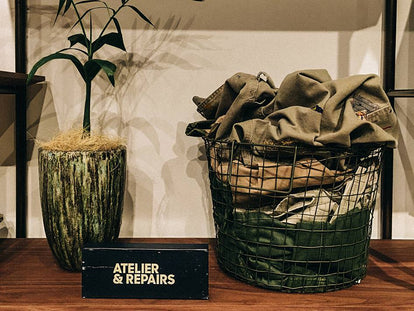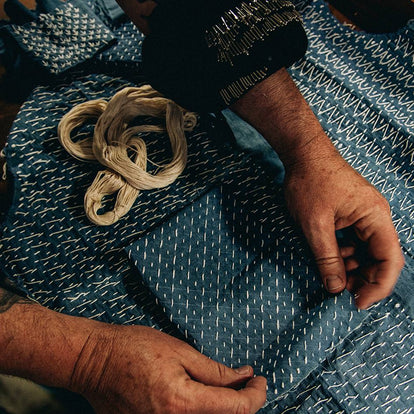 Atelier & Repairs bears little resemblance to most boutique fashion houses; rather than manufacturing new products, they salvage and repurpose deadstock, damaged, and otherwise discarded garments and materials. A quick tour of their shop (or their site) reveals a carefully curated collection and a completely unique aesthetic: camouflage cargo pants emblazoned with bright patches of color, meticulously deconstructed military jackets, crisp shirting with contrast accents fashioned from antique maritime fabrics, and much, much more. The A&R team's boldly imaginative vision—and dedication to quality components and construction—has not gone unnoticed, and their work adorns the showrooms of big-name luxury retailers like Bergdorf Goodman as well as ultra hip underground shops all around the globe.
Of course, the undeniable cool factor is only one part of the equation. At the heart of Atelier & Repairs is the desire to confront the fashion industry's waste by encouraging consumers to rethink the lifespan of their clothing—a goal that the team here at Taylor Stitch shares. That's why, when faced with the problem of excess inventory, we knew Maurizio was the man for the job. Thankfully, he was happy to bring his perspective—and sewing chops—to the table, and the resulting collection casts some of our most beloved silhouettes in a completely new light.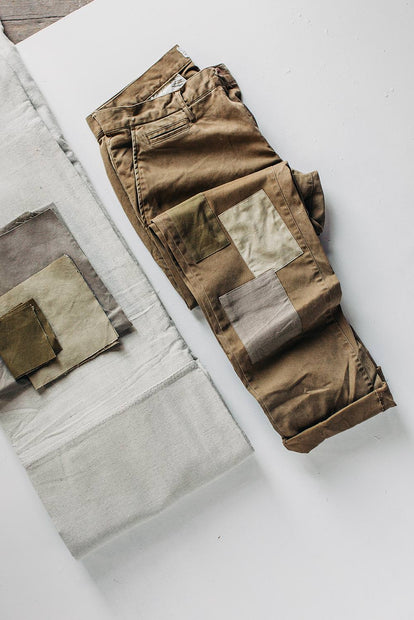 The Jack and The Chino remain as timeless and wearable as ever, but under Maurizio's guidance they've been transformed from everyday essentials into look-defining centerpieces: both styles have been embellished with awesome archival fabrics and have undergone a softening wash to achieve the look and feel of the very best vintage finds. We wanted to be completely transparent about the story behind this collaboration, but we're so happy with how everything came out that we'd do it again—excess units or not—in a heartbeat. Sure beats the landfill, eh?
Word To The Wise
Each piece is handcrafted, and quantities are very limited, so if you see something that catches your eye, act fast!
Shop Now
Get There Quicker
Keyboard Shortcuts
General
Keyboard Help Shift+?
Search S
Go to Account/Login ME
Go to Help HELP
Main Navigation
Go to Home GH
Go to Workshop GS
Go to Men's Home GM
Go to The Dispatch GD
MAG
Go to Cart GC
Categories
Go to Shirts GCS
Go to Outerwear GCO
Go to Bottoms GCB
Go to Denim GCD
Go to Footwear GCF
Go to Accessories GCA
Go to Essentials GCE