What The Fit?
We offer most of our bottoms in two discerning fits—Slim and Democratic. After countless hours of testing, sampling, and refining the two—not only in all of our jeans for men, but also our range of Chinos—we're damn confident these two styles cover all the bases when it comes to fit, form, and function. What's the difference between the two, you ask?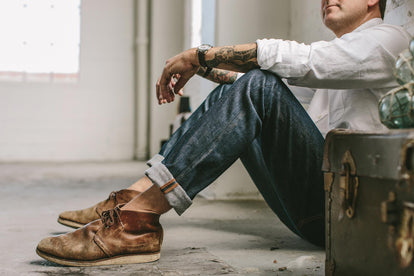 Our take on your classic "straight" or "regular" pant style, our Democratic Fit has been developed for those guys with more athletic legs. A touch roomier throughout the seat, our Democratic pants still exhibit classic TS tailoring, but provide more freedom in the thigh and knee, as well as a slightly wider leg opening. Chances are, if you consider yourself an athlete, you count running or cycling as a hobby, or you're just an all-around hoss, our Democratic Fit is the way to go.
On the other hand leg, we've developed our Slim Fit to express a more modern take on tailoring and fit. By no means "skinny," our Slim pants are simply more tapered throughout the thigh, knee, and leg opening, to give you that trimmer look and feel. We like to say Slim is made for those with leaner legs, so if you ever happen to look in the mirror and see a more limber frame, our Slim Fit is probably the answer for you.
As for what the two have in common, the waist sizes are standard across the two, and both Democratic and Slim fits offer a medium rise with just enough shape to keep the back waistband against your skin. Check and check. ✓✓
Our two fits get the job done for all of us here at TS—and it goes without saying, we not only want to make clothing that functions and moves with you, doing whatever it is you do, but we want you to look and feel comfortable in whatever garment you choose to bring home.