Our buddy Nate Ma—who you may know as @cuffington on Instagram—is something of an expert when it comes to menswear, and we always look forward to seeing how he'll style our gear. He recently copped two of our latest iterations of our legendary trucker jacket—The Long Haul Jacket in Cola and The Long Haul Jacket in Black Over-Dye Selvage—and the results are inspiring to say the least. Read on to see how Nate likes to rock his Long Hauls!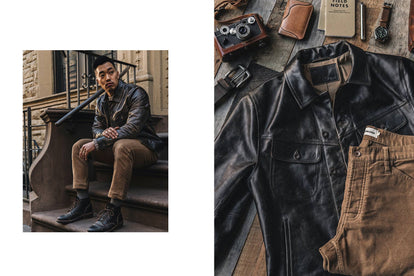 If you struggled to imagine how to work a showstopper like The Long Haul Jacket in Cola into your daily arsenal, Nate's built out some awesome fits to showcase the piece's versatility. This Long Haul boasts a ton of character, and it'll elevate just about anything you pair it with: a classic button down, a chunky sweater like The Fisherman, or even a simple T-shirt. We especially love how the tea-core leather develops character over time—after only a few weeks, Nate's jacket has a ton of nuance that wasn't there when it was brand new. We can't wait to see what it looks like after a couple of months (or a couple of years, for that matter).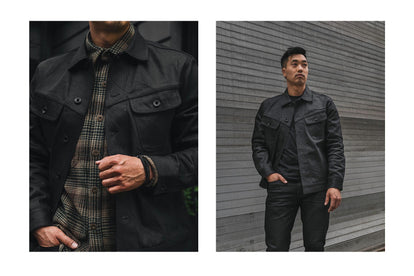 It's hard to go wrong with a black denim jacket, but what makes this version of The Long Haul special is that, thanks to its Over-Dye finish, its inky black finish will eventually fade to reveal the natural and indigo-dyed yarns underneath. This means that it'll gradually transform as it's washed and worn, resulting in a one-of-a-kind piece with a ton of character. Nate paired his Long Haul in Black Over-Dye Selvage with The Explorer in Tan Plaid and our slim jeans in the same finish, but to be clear, this jacket looks good with just about everything. Be sure to follow @cuffington for more awesome styling tips!