You know what the holidays look, feel, sound and smell like — to you, at least. Seasons change, winter storms roll in and out of town, a brisk breeze (hopefully) carries you home for the holidays, but there's still no one-size fits all approach. It's almost dizzying the number of scenarios a modern man might find himself in during the holiday season—and it's certainly a marathon, not a sprint.
Your holiday calendar promises no shortage of roaring fires at home, (responsible) drams of whiskey with co-workers, maybe even a hearty stout surrounded by loved ones with a classic vinyl spinning just steps away. We can't help you plan a menu or pick out the perfect host gift, but we can help you tackle the season in style. If your calendar is already starting to feel a touch jam-packed, take some solace in knowing your wardrobe is equipped with a variety of do-it-all pieces — yes, from your friends at Taylor Stitch — to help you rise to the (holiday) occasion.
The best part is, you very well might have a few of these Taylor Stitch essentials in your rotation already. Or at the very least, you'll recognize the basics of our holiday style guide: A cozy, do-it-all sweater, a crisp-yet-comfortable shirt, finely tailored pants, even some trusty, elegant yet weather-ready boots. We're off to the races already, aren't we?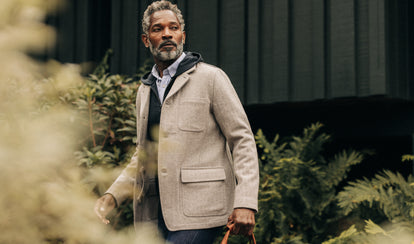 An Outfit for All Seasons…But Especially The Holidays
When dressing for what lies ahead, this Brooklyn writer tends to build an #OOTD with a bit of a mix-and-match approach. A dinner at a buzzed-about restaurant? Evening cocktails at a speakeasy? A rooftop soiree with a skyline view? To me, those all read as a touch more elevated. So, I'm starting my holiday ensemble with a rugged-meets-refined cardigan like the Eddy Cardigan in a rich shade of Camel, and perhaps you'll consider doing the same, ehh?
It's a polished house sweater atop a classic tee or henley shirt on the weekend, but it's fit to step things up a notch when a refined occasion beckons. It's ultra-soft, it's not as thick or as casual as a ribbed fisherman cardigan, and it dresses up or down effortlessly.
If the evening calls for a jacket — short of black tie or a formal suit-and-tie dress code — I could certainly see the Gibson Jacket in a handsome heathered herringbone substituting nicely in place of your trusty Taylor Stitch cardigan.
It's got the look of a three-button blazer, the detailing of a true sportcoat (the kind they'd wear on holiday hunts far afield), and the comfort to move with you (it's made from a wool and nylon blend).
Feeling a touch adventurous? Heck, wear that jacket atop your cardigan for visual interest and added warmth on especially brisk nights. The Camel and Heather colorways (respectively) even work nicely together. At least, that's my take.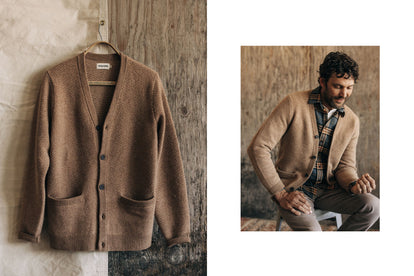 Seriously Stylish Seasonal Shirting
And for as much as this writer personally loves a trusty Heavy Bag Henley, the holidays often call for something with a touch more polish. But without overdoing it and without restricting yourself to an office-minded dress shirt, a classic like the Taylor Stitch Jack Shirt bridges the gap.
Over the years, I've found this shirt is a true go-to — seriously, day after day after day, in a variety of colors and fabrics. I think of it like a modern take on the Oxford shirt, and I appreciate the 100 percent organic cotton construction — that means it won't prove too hot beneath a sweater or a blazer.
The California Shirt could prove a wise alternate option if you find yourself needing a shirt you can more readily pair with, say, a wool or knit tie — another hybrid style move that's polished without veering into black tie territory.
Here's where I go back to my mix-and-match approach: I've started the evening by selecting either a hybrid blazer or a cardigan. I've chosen the right shirt to fit the situation — I'm pairing my Jack Shirt with the Eddy Cardigan, or the California Shirt with the Gibson Jacket. Still with me?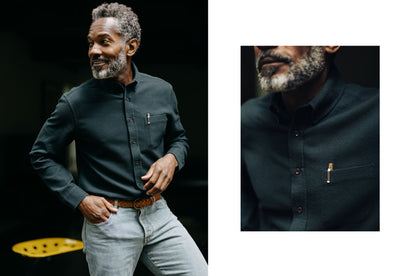 Timeless Trousers
As you stand in front of your closet this season, you might think you're down to slim pickings, but trust me when I say that's not the case. Tailored dress trousers in a seasonally friendly fabric — and ideally in a crisp, dark shade — are as classic as an Old Fashioned on a brisk winter's night. The Carnegie Pants, then, are your ticket to ride.
The herringbone fabric is as timeless now as it was when Jimmy Stewart sprinted past the Bailey Building & Loan decades back. You also needn't worry about your shirt or outer layer meeting the moment, since either combination works wonders (in my humble opinion!) in the colder climes of the yuletide season.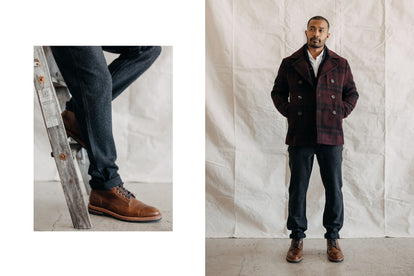 Steps in Style
Here's where the real fun begins as we dive into holiday styling tips (although I think we've had plenty of fun already). How does a guy finish off a look while considering the storm brewing outside?
I've got your answer, my good man.
My Taylor Stitch Ranch Boots have gone plenty of different places with me: They've tread cobblestone streets, they've visited breweries across the country and yes, they've enjoyed many a fine Manhattan on a snowy night.
Perhaps the Redwood Waxed Suede of the latest pair from Taylor Stitch feels a tad too rugged? Opt instead for the Trench Boots, made from an absurdly beautiful suede or Whiskey leather that shines up to perfection for a dressy dalliance.
Bright Spirits, Bright Accessories
After all, snow, rain sleet or slush demand boots that keep you upright in style. On that note, no holiday #OOTD is complete without the proper details.
The Taylor Stitch Headland Cotton Beanie conjures up olden days dashing through the snow, the Rib Scarf is thick knit and impossibly warm (at least, in my experience), and if you happen to be playing host, The Camp Candle adds suitable, warm ambience to any space.
See, I told you there was no need to fear holiday dressing, right? Above all, being prepared for the moment at hand — whether with a warm handshake, a knowing nod, another dram of whiskey or proper cold-weather accessories — starts when you want it to start. Why not embrace the season ahead this very moment, in style?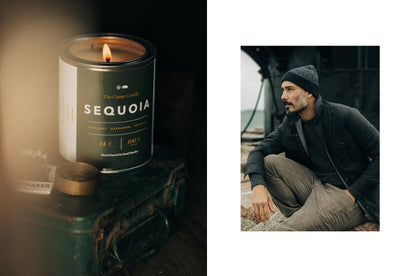 ---
Written by Beau Hayhoe
Beau is a Brooklyn-based men's style, lifestyle and music writer. He's written for publications like Esquire, Maxim, Mens Journal and more. He also runs his own daily menswear blog, The Style Guide.
---