Recently, Elephant Revival founding member and guitarist Daniel Rodriguez and his band stopped by our flagship Valencia store on their way to join The Lumineers on a cross country tour. We've been big fans of Daniel's since his 2019 release Your Heart, The Stars, The Milky Way, so needless to say we were pretty stoked when they decided to hang out for a while and perform a few tunes in the shop. To thank him and his band for the performance, we made sure they left decked out in fresh threads, built to endure a life on the road.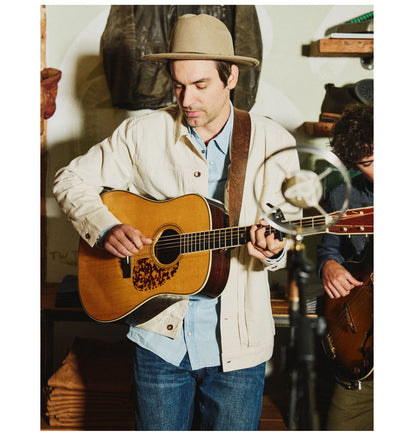 Setting up in a corner of the shop, Daniel warmed up an old Fender Twin Reverb and donned a well loved acoustic guitar while his bandmates strapped on their respective instruments, before striking up their single, Mixtape and the title track of Daniel's latest album, Sojourn Of A Burning Sun. 
Daniel's lyrics weave together past and present, contrasting the traveling spirit of Kerouak's American dream with modern stories of long road trips in a car full of good friends and your favorite music. After the show, we got the opportunity to sit down and chat with Daniel about music, life, and the things that inspire him.
Q: Where did your initial inspiration for becoming a musician come from? Was there a single moment or was it part of a more gradual process over time? 
It was definitely a gradual process of falling in love with music to the point that I eventually became so inspired that I chose it as a life path. Though there was one singular moment at 18 when I was in the audience of a live show where I was struck with the realization that music is what I am supposed to be doing. Luckily that process of discovery and falling deeper in love with music continues for me till this day.
Q: Playing live is such a big part of being a musician—What was it like touring with The Lumineers this year? Is there one experience on the road in particular that stands out to you most?
Touring with The Lumineers was amazing. It was a dream to be able to share my songs and craft with tens of thousands of people every night. As a band we had to  quickly learn how to play arenas and stadiums, which was a blast. One moment that stands out among all the great memories is singing a Tom Petty song onstage with The Lumineers in front of 40,000 people in Denver, Colorado. They had me up every night during their set but it was incredibly thrilling to do it in front of our home crowd.
Q: In your years of hitting the open road as a highway man with guitar in hand, what's the most interesting venue you've played?
The most incredible place I have ever played is definitely Red Rocks. But the most interesting place is a good question. Maybe the store front at the Taylor Stitch store in San Francisco while on tour with The Lumineers. Just kidding. One time I played a festival outside of Prague, Czech Republic. It was at one time a secret festival during the communist reign where people would get introduced to music from the outside world. The late night stage had a bonfire where everyone was cooking sausages on sticks while listening to a jazz band.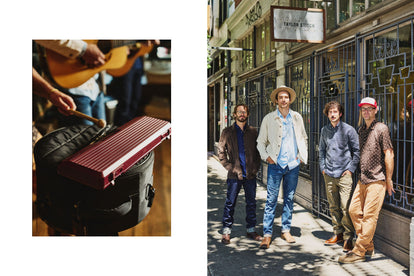 Q: Translating your personal experiences into words and music can be quite a vulnerable experience. How do you approach your songwriting process?
My process is often all over the place. A song can perhaps come all at once, and very easily. Sometimes it takes years to write a song. Sometimes it starts with the words, and sometimes it starts with a melody or chord progression. Ideally it all comes at once. The thread of inspiration that sparks something at first can be inspired by anything from observing people at a cafe to something profound that someone said that gets the juices flowing. This morning I woke up with lyrics in my head and had to quickly scribble them down before I started my day.
Q: As this year comes to a close, what are you most excited about for 2023?
I have my second full length record "Vast Nothing" coming out this winter/spring. It may be the best collection of songs I have ever assembled on a record, and we recorded the songs very true to their identities. In January and March I will be going into the studio with Wesley Schultz, the front man for The Lumineers, to record my third full length record. I'm also working on a book of poems that should be ready for next fall. Last but not least, I have a music video coming out for my song "Mixtape" where I am clothed head to toe in Taylor Stitch ;)
Q: Lastly, given the time of year, we have to ask—do you have a favorite holiday album or song?
Growing up it was always the Chipmunks Christmas album… Now it's probably Bob Dylan's Christmas album.  Adding some Americana rasp to the classics is pretty awesome. Yet my favorite Christmas song is shamelessly the one I wrote and recorded with The Lumineers called "This is Life (Merry Christmas)". If you like a good dark humored Christmas song, check it out.
Daniel, it's been a literal dream come true. We hope your travels find you back in the Bay Area soon, but until then, enjoy the fresh duds. May they serve you well out on the road.
Watch Daniel's full performance on our Youtube channel. For more on Daniel Rodriguez, head to his Spotify (check out his latest single Vast Nothing), and follow him on Instagram.