Our buddy Lee Desrosiers' interest in food emerged early; as a kid, he spent summers in Cape Cod, where he helped out on a small farm and learned about the importance of fresh, local ingredients.
Over the course of a whirlwind career—which has taken him to the far reaches of Asia, Europe, and The Americas—Lee never lost sight of that original premise: the better the ingredients, the better the meal. He's learned the ins and outs of butchering, sustainable sourcing, and creative preparation, and he's worked in all kinds of kitchens (he often makes do without a kitchen, in fact), developing a unique approach that's earned him numerous accolades and a dedicated foodie following.
We love Lee's food, not only because it tastes amazing (and as you'll soon find out, it tastes amazing), but because he's so steadfast in his belief in the importance of exceptional, sustainable ingredients. Just like we're committed to building gear Responsibly, Lee is committed to taking a holistic view of the culinary process, whether he's in some far-flung kitchen, hosting an open-air roast, or touring a local farm. If you're looking to impress your family with a special dish this holiday, read on for Lee's recipes for some seriously killer Buffalo Ribs and delicious homemade yogurt—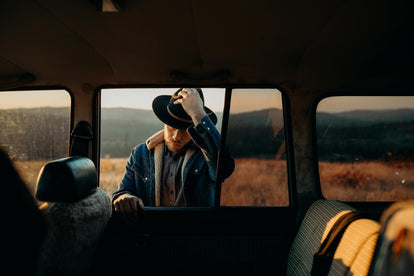 Water Buffalo Ribs in Grape Leaves & Wine
2.5 pounds of ribs
1 onion sliced
1 good leek, sparsely trimmed, keeping the green, cleaned and sliced
7 garlic cloves peeled and left whole
7 grape leaves
a nice bottle of white wine
a bay leaf or 2
1 cup of water buffalo broth
¼oz Rich Simple Syrup
A glug of olive oil
In a dutch oven big enough to hold all of the ingredients, layer the bottom of the pan with the leeks, onion and garlic.
Place the liberally salted meat on top with plumes of grape leaves in between. Pour half the bottle of wine over the top and reserve the rest for you and a companion.
Add the stock, herbs and olive oil.
Cover and place in a moderate oven for 2.5ish hours. Check with a knife to feel if it's tender.
Let it rest and then kiss the ribs over the hot coals of a grill for some added texture.
Serve and enjoy.
Persimmon Lassi with Homemade Water Buffalo Yogurt
1 quart of milk
1 tablespoon of good yogurt
2 hachiya persimmons(very ripe, soft to the touch) skin removed
1 tablespoons of honey or maple syrup
Juice from a half lemon
Pinch of salt
Handful of ice
Heat milk to 180 degrees F (just before it boils) with a gentle heat, and stir frequently to avoid burning.
Cool it down to about 110 degrees F or to the point where it feels hot but it is not too hot to keep your finger in it.
Mix in a spoon of yogurt and pour into a quart jar and cover it.
Place the jar in a warm cooler. Lee uses a few bottles filled with hot water and a blanket to fill in an empty space in the cooler.
Check the yogurt after 8 to 12 hours to see if it is set.
For the lassi, take 2 cups of your yogurt (reserve the rest for future use) and the rest of your ingredients to a blender and process until smooth.