In years past, we've celebrated Earth Day by going outside and enjoying the incredible splendors of our planet firsthand: spending a day at the beach, hiking with our families, or maybe getting the buds together for a camping trip. Suffice it to say, this year is a little bit different, so we had to come up with a new way to show the planet some love.
Our solution is twofold. First, a capsule collection of some of our very best products—the essentials that made us what we are today—colored with natural dyes in collaboration with our friends at Botanical Colors in Seattle, WA. Second, a limited range of one-of-a-kind pieces—hand-dyed by artists Anna Meier and Kristin Arzt—that we're raffling off to benefit two non-profit organizations we believe in: The Crucible, an industrial art school in Oakland, and the California Native Plants Society.
The capsule collection casts some of our core products in a whole new light, imbuing them with fresh colors and showcasing the beauty of all-natural dyes. The Jack—made with 100% organic cotton—and the Heavy Bag Tee—made with upcycled materials and manufactured using no water—provide the perfect canvas for these incredibly vibrant dyes.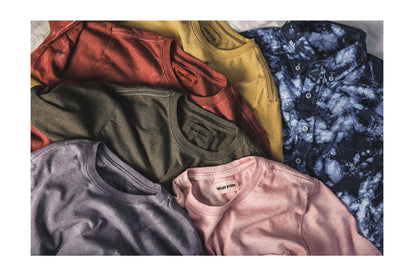 We chose to partner with Botanical Colors for this collection because, like us, protecting the environment is central to everything they do. In practice, that means they grow the constituent materials for their dyes themselves right here on the West Coast, and they do so using regenerative agricultural practices that keep the land and the soil they till healthy. Their dyes can be purchased on their website, and if you're looking for a preview, just check out how beautiful the products in the capsule collection turned out. Next time you stain your favorite button down, don't despair—grab some Botanical Colors dye and give it a new lease on life. Heck, you don't even have to leave the comfort of your own home; make an afternoon of it!
We're also unveiling a line of one-of-a-kind pieces that were hand-dyed by two artists we're thrilled to be working with: Anna Meier and Kristin Arzt. Anna and Kristin each bring their own totally unique perspective and aesthetic to these pieces, and we're genuinely astonished at the beautiful results. We're raffling off each piece from this series, and 100% of the proceeds will go to two stellar non-profit organizations.
The Crucible is an Oakland-based industrial arts school that offers youth and adult courses in a wide variety of disciplines, from blacksmithing to glassblowing and everything in between. If you're interested in learning to work with your hands, the expert instructors at The Crucible are ready to help to develop as an artisan. It's an all around fantastic organization based right here in the Bay Area, and we're thrilled to lend our support.
The California Native Plants Society's mission is to protect our state's flora through education and advocacy. Did you know that California has more plant species than any other state in the nation, and that a third of those species aren't found anywhere else on the planet? Neither did we, which is why the CNPS is so critical. Half of the proceeds from our Artist Series will go to helping this invaluable organization preserve California's natural beauty.
We added the word "responsibly" to our motto a few years back because we believed TS could and should be more than just a clothing brand. We wanted to lead the charge towards a better industry and a healthier planet, which is why we completely reimagined our business and our products. It's been a hell of a journey, with more hurdles and headaches than we'd care to count, but we wouldn't change a thing. We still have a long ways to go, but this Earth Day, we look back at how we've grown and we're incredibly proud of where we are today.
We think you—our supporters, our friends, our collaborators—should be proud too. We've only got one planet, and we couldn't think of a better bunch of people to share it with.