One of the few good things about being stuck indoors is having the time to really cook at home. From sourdough bread to shakshuka, we have been seeing some elaborate DIY dishes and we wanted to share a few of our own with you. Stop by your local small business grocer, food co-op, CSA, butchershop, you name it—and take the below for a spin. We partnered up with our long-time buddy Chef Chris Cosentino to highlight some great recipes you can make on your own (or to impress your quarantine companions).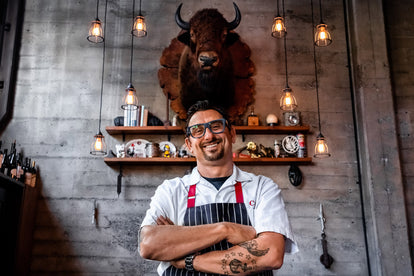 Passionate author, chef, cyclist and philanthropist, Cosentino is the co-owner of San Francisco's celebrated Cockscomb restaurant, Jackrabbit in Portland, Acacia House at Las Alcobas in Napa Valley, and Rosalie in Houston, Texas with partner Oliver Wharton and parent company Delicious MFG & Co.
A graduate of the culinary program at Johnson & Wales University, Cosentino cooked at some of the country's most beloved restaurants, including Red Sage in Washington, D.C. and Rubicon, Chez Panisse, Belon, and Redwood Park in the Bay Area, before opening Incanto—his first executive chef position. At Incanto, Cosentino drew critical acclaim for his innovative Italian and whole-animal cooking. During Incanto's twelve-year tenure, Cosentino mastered the art of hand-crafted cured meats and helped raise awareness about utilizing the entire animal, including its offal. To celebrate, we brought it back to basics with the cast-iron steak.
Find the recipe below, and be sure to tune in Friday, April 4th, 2020 for his Instagram live takeover on @taylorstitch for the second installment.
Spaghetti Puttanesca
Serves 4
Ingredients
Olive Oil—extra-virgin 3 tbsp.
Red Onion—brunoised 1⁄2 cup
Garlic—pounded into a paste 8 cloves
Capers—2 tbsp.
Anchovy—salt packed 4 filets
Bocarones (pickled anchovies)—4 filets
San Marzano Whole Tomatoes (or fresh milled tomatoes)—3 cups
San Remo Olives—1⁄4 cup
Dried Spaghetti—10 ounces
Orange, zested—1⁄2 orange
Oregano Leaves—fresh 1 tsp.
Mint Leaves—fresh 2 tsp.
Red Chili Flakes to taste
Aleppo Chili Flakes to taste
Red Boat Fish Sauce to taste
Cracked Black Pepper to taste
Method
In a large, non-reactive sauté pan, heat the olive oil over medium-high heat.
Add red onion and garlic. Let sizzle until aromatic, about 1 minute.
Add capers and both kinds of anchovies; breaking them up with a spoon to bloom the flavor.
Add red chili flakes and Aleppo chili flakes. Then deglaze with red wine, before the chili flakes burn.
Reduce the wine by 3⁄4, then add the tomatoes, and let it cook until reduced by just over half.
Add the cooked spaghetti and San Remo olives; adjusting the seasoning with fish sauce and orange zest to taste. Cook the sauce so it glazes the pasta then serve in a warm bowl with a drizzleof fresh olive oil over the top.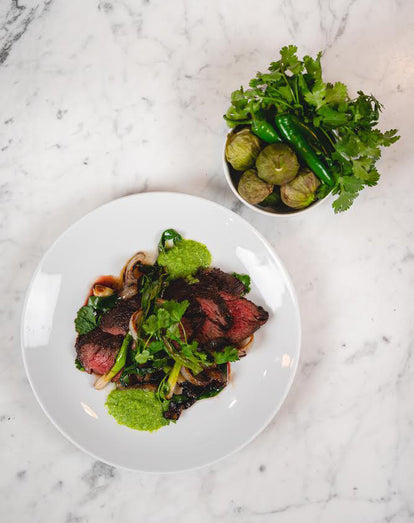 Serves 4
Steak And Charred Onion Ingredients
2lb Hanger Steak
2 bunches Scallions
½ White Onion
¼lb Butter
1 bunch Thyme
Salsa Verde to taste
Salt & Pepper to taste
Method
Wash and prepare the vegetables: Cut the onion half into two, thick onion rings. Slice the root off the scallions.
Remove packaging and pat meat dry with paper towels. Line a plate with paper towels, place the meat on top, and set aside to dry further and come to cool room temperature (30 to 60 minutes, depending on the weather). Turn occasionally; replace paper towels as needed.
Season the steak with salt and pepper.
Place a heavy skillet, preferably cast-iron, on the stove and drizzle with olive oil. Turn heat to high under pan. Pat both sides of steak dry again.
When pan is smoking hot, 5 to 8 minutes, place the steak in the pan. Add the white onions to side of steak. Let steak sear for 1 minute, then use tongs to flip it over. Press down gently to ensure even contact between steak and pan. Keep cooking over very high heat, flipping steak every 30 seconds. Flip over onions, it's ok if they start to come apart.
Add garlic cloves and thyme to the pan. Add ½ stick butter and baste, stacking aromatics on top of the meat and drizzling oil over the top (in this order: Steak, thyme, garlic, onions). Don't be afraid to add even more butter! Baste continuously, tipping the pan to scoop melted butter with a spoon and drizzle over your stack.
When steak has contracted in size and developed a dark-brown crust, about 4 minutes total, check for doneness. To the touch, meat should feel softly springy but not squishy. If using an instant-read thermometer, insert into side of steak. For medium-rare meat, 120 to 125 degrees is ideal; steak will continue cooking after being removed from heat.
Add the scallions to let them char slightly.
Remove steak to a cutting board and tent lightly with foil. Let rest 5 minutes.
Serve in pieces, or thickly slice on the diagonal away from your body and with the top edge of the knife leaning toward your body. If cooking skirt or hanger steak, make sure to slice across the grain of the meat.
When finished, drape the onions and scallions over the meat then drizzle with the salsa verde.
Salse Verde Ingredients
1½lb Tomatillos
½ White Onion
2 cloves Garlic
½ cup Cilantro, leaves & stems
1tbsp Fresh Lime Juice
2 Serrano Peppers, de-stemmed, de-seeded and chopped
Salt to taste
Method
Drop tomatillos in water to wash and remove stickiness. Remove leaves.
Peel the onion, remove ends and cut in half.
Peel garlic and remove ends.
Add all ingredients to the blender.
Blend until smooth. Reserve in a non-reactive container.