Let's face it, there's nothing quite like throwing on some well-loved sweatpants and a soft t-shirt for a night of well earned R&R. But while we love a casual, comfortable look as much as the next guy, we don't think it should come at the expense of craftsmanship, looks, or functionality. A wardrobe is built on a foundation of everyday basics, so we think it's worth it to build on solid ground.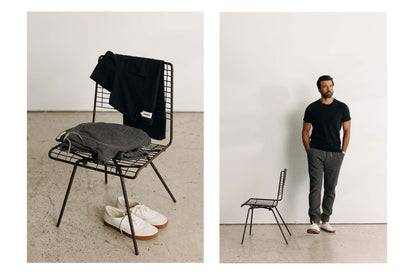 If you're wondering how to put together a casual outfit that's ready to go from lounging on the couch to an evening on the town, we're here to help with timeless pieces that are equal parts comfortable and durable. From our take on a classic tee to pants that do it all, check out a few of our favorite basics to mix and match whatever the week has in store.
Casual Men's Bottoms
As far as casual bottoms are concerned, the options have pretty much always been either sweatpants or men's joggers. The former being super comfortable but a bit too slouchy to leave the couch, the latter (while being more functional and tailored) tending to give off a casual, sporty vibe that doesn't suit most social settings. Our answer? The Après Pant; a meticulously tailored, supremely comfortable lounge pant with the utility to take on a morning hike and the clean looks to come along for an evening on the town.
How To Style Men's Casual Bottoms
When it comes to styling casual bottoms like The Après Pant, the truth is your imagination is the limit. To get you started, here are two foolproof ways we like to wear them.
Everyday Casual
Pair your lounge pants with your favorite classic tee or cotton sweater and a set of sandals or sneakers for a casual everyday style that still reads cool and considered.
Day to Night Out
Loungewear isn't just for days at home. If you're going for a more polished look that still reads effortlessly comfortable, throw on a button down shirt (like our signature Jack), a cardigan sweater and some loafers for a laid back look with style to spare.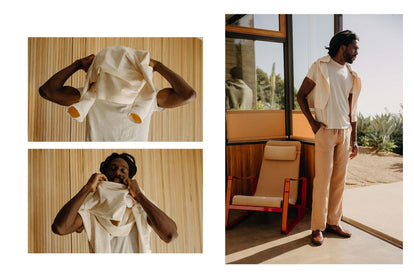 Let's Talk Tees
While it may seem a simple thing to nail, we consider constructing the perfect men's t-shirt an artform in and of itself. After all, there's nothing quite like a basic tee to round out any casual outfit. Our Heavy Bag Tees are ideal heavyweight t-shirts for layering in cooler climates or sporting solo to add some texture to a simple summer fit, while our lightweight hemp t-shirt, The Cotton Hemp Tee, feels like a well-worn favorite from the very first wear.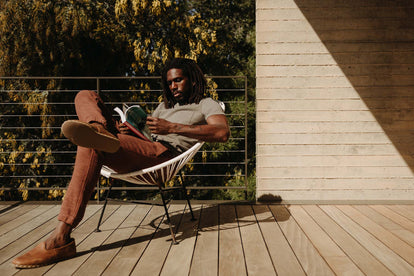 How To Style Casual Tees For Men
Is there anything more versatile than a basic tee? Excluding black tie events, t-shirts look great with just about anything, all-year round.
Weekend Vibes
Rock your t-shirt solo with your favorite set of vintage blue jeans or khaki shorts in the warmer months for a timeless everyday fit. And when the temperature drops, throw on a classic chore coat for an easy layered look with extra warmth
Ready For Adventure
If you're planning a weekend in the woods, pair a burly t-shirt with some hardy pants and sturdy boots for a rugged getup that's ready to hit the trails. Come summertime, wear a breezy lightweight tee with versatile hybrid shorts and go from beachside to the family barbecue.
Better Basics With TS
From our Après Pant to our versatile tees, there are countless options to explore when it comes to casual gear at TS. So head on over to our site, and have a look, no matter your style, your local climate, or your color preference, there's a killer piece with your name on it. All Responsibly Built For The Long Haul. Let's raise a glass to putting comfort first, and looking damn good doing it. Cheers, folks.