Fall is upon us—the leaves are changing, the air is brisk, and it's time to start thinking about how we're going to stay warm this season. Thankfully, we've got a range of fantastic sweaters on offer this year to keep you cozy and looking sharp no matter how chilly it gets. Our buddy John over at New England Menswear is an expert when it comes to layering up, and he's graciously offered to send us a selection of styling ideas to take some of the guesswork out of the process. Without further ado, let's check out what he came up with!
Classic Sweater + Chore Coat
When we think of autumn, we think of warm, nature-inspired hues—like the color of The Lodge Sweater in Ochre. Despite its visual impact, this sweater plays very nicely with other gear. Here, John paired it with a trusty pair of blue jeans and our trusty French chore coat, The Ojai Jacket. We especially appreciate the coordination between the Lodge and The Ojai's natural ringback buttons.
Button Down + Sweater + Camp Pants
In this second look, The Lodge Sweater in Ochre takes center stage, worn over a button down shirt and pairing perfectly with The Camp Pant in Boss Duck, our hard-wearing men's work pants. Despite its luxurious, cashmere-like texture, The Lodge works really well in more casual ensembles—it even looks great alongside a pair of classic high-top sneakers.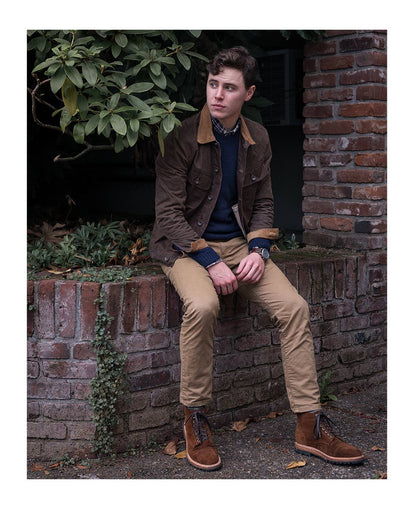 Sweater + Trucker Jacket + Chinos
Navy is one of the most versatile colors around, and we love how it compliments the earthy tones of The Long Haul Jacket in Tobacco Waxed Canvas and The Foundation Pant in Organic Khaki, our modern take on classic chinos. The Moto Boot in Snuff Suede rounds out the ensemble.
Sweater + Jeans + Boots
Because it's a 100% baby yak wool sweater, The Lodge Sweater is incredibly cozy and offers an impressive warmth-to-weight ratio. Here, John is rocking the Ochre colorway alongside some matching boots, and he ties the outfit together with some complementary accent pieces—a leather-strapped backpack and a brown baseball cap.
Dark Sweater + Denim Jacket 
When it comes to tops, bottoms, and even footwear, it's hard to go wrong with a nice, dark brown. Here, The Lodge in Chocolate serves as an understated base layer, making John's denim jacket really pop. Because they're lightweight and low-profile, sweaters like The Lodge and The Moor Sweater can be comfortably layered under—or on top of—just about anything in your closet—from a lightweight tee on balmier days to a rugged waxed jacket when temperatures dip.
Sweater + Military Coat 
The last look John sent us is a real standout, showcasing the versatility of The Lodge in Chocolate by pairing it with The Gibson in Navy Donegal Windowpane and The Camp Pant in British Khaki Tuff Duck. We don't know where John's headed, but he looks like he's ready for anything—and we have no doubt that he's as cozy as can be.