When it came time to send our brand new Adventure Shorts out into the wild for a stress test, our first priority was to make sure they lived up to their name. But what does "adventure" really mean? Whenever we tried to envision the word, we saw all sorts of different experiences, places, activities… How could we subject our latest shorts to as many different versions of "adventure" as possible? The answer came in the form of our buddy, Olympic medalist Alex Deibold.
Alex may be best known for his successes as a member of the US Olympic Snowboarding team, but the reason we sent him some of our latest gear is the adventurous spirit that permeates his entire life. Of course, it makes sense that someone who has what it takes to join the ranks of the very best in their chosen field would bring that same focus and determination to other areas of their lives, but Deibold takes it to a whole new level.
On top of his illustrious career as an athlete, he's an avid cyclist, runner, hiker, and, judging by these photos, an accomplished amateur chef. Born in Manchester, VT and based in Los Angeles, CA, Alex is a seasoned traveler who brings his appetite for adventure and his enthusiasm for building community everywhere he goes. It's precisely this variety—of activity, of surroundings—that made him the perfect candidate to test out The Adventure Short.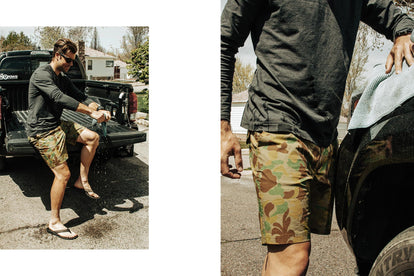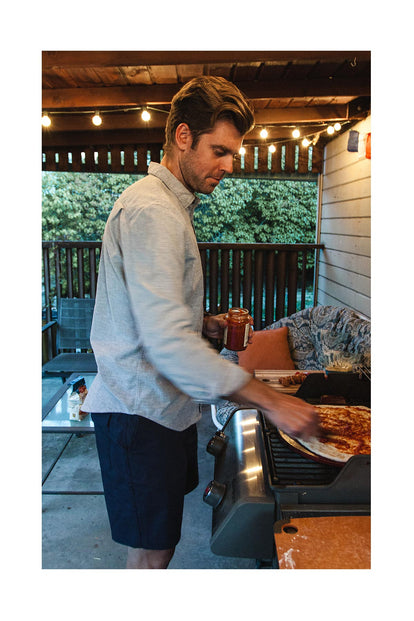 These photos represent one day in Alex's impressively active life, and we think The Adventure Short held up admirably. A DWR (Durable Water Repellent) coating makes them ideal for the beach, the rain, or even scrubbing down your car. A touch of stretch allows for easy mobility—ideal for high intensity activities, like the hike through The Rocky Mountains seen here. Despite their technical pedigree, these new shorts are also super comfortable, which means you won't want to ditch them for sweats the minute you get home after a long day.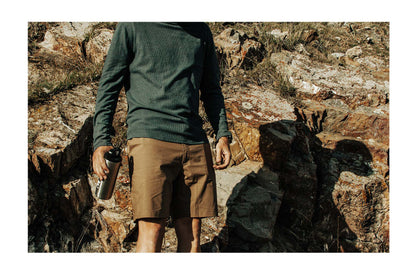 We really enjoyed getting a peek into the world of Alex Deibold. On top of a successful product stress test, we came away from the whole experience feeling more than a little inspired. Somehow, despite what we assume is an absolutely brutal training regimen, Alex keeps finding new ways to test his limits. What does adventure mean? Well, whatever he's doing seems like a pretty solid definition to us.