This week, we had the privilege of speaking with our friend Efe Efeturi (@efe.efeturi) a menswear and lifestyle content creator based in London, United Kingdom. A purveyor of timeless silhouettes and thoughtful design, Efe brilliantly presents a diverse yet cohesive style that men across all age groups can truly resonate with. His creative use of color and contrast sets him apart, presenting bold yet approachable style pairings for his audience. So, without further ado, here's our conversation with the gentleman himself.
So, Efe, thanks for speaking with us. For those who don't already know you, could you tell us a little bit about your background?
I am a menswear and lifestyle content creator based in London, UK. Starting off as a Producer and mix engineer, I later moved into filmmaking and now as a colourist for my self run film/media production house Relative Motion Media (@ relativemotionm ) which produces fashion and beauty editorials.
Tell us a little bit about your day to day. What does a typical day of work look like for you?
Hmm, a typical day can vary depending on what I focus on, but in general, I would get up really early and plan my shoots for my menswear blog each day—then I would log all my clients work to be done at the media company to various editors to cover based on the number of work I have. Shower and breakfast (never miss a good breakfast), then I would be at my blog shoot for 9 am and should be back to the office for 12 pm. After logging in all the images I would focus on my film work and do a little overseeing of work myself as I get to edit or grade. For 5 pm I head to the gym—especially if I am not on set which would most likely finish late, so might not be able to work out that day. I should be home for 7 pm to spend some time with my wife—no kids just yet. I rarely go out as I like to make my own food and use that baking time to spend time at home. Then weekends are for movies (that's if I am not on set).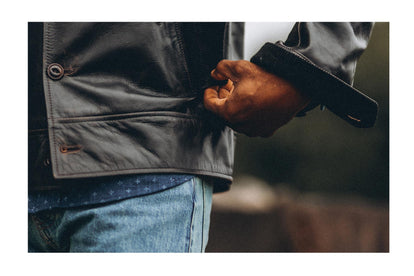 We're big fans of your personal style—what initially sparked your interest in menswear?
My Dad said as a kid I used to dress up and then go to bed in my full attire and shoes included, so that was always in me, but as a man, my work with colour inspired my desires to experiment with colours for menswear. Also, I realised that not many men my age (over 40s) take their personal style into account as much as the young cats (and I didn't feel I wanted to feel old but human).
Your creative use of color is really inspiring. What are your favorite colors and hues to play around with when building an outfit?
You got that right look, I love colours, and for me it's not about it not working or not, I just love to experiment with hues, shades, and contrast. My favourite colours are blue, beige, brown, green, and mustard. Most shades feed off these tones for my styles, but truth be told, I love almost every colour.
What's your favorite aspect of living and working in the UK?
I love my city, London, because there is so much good in such a tiny town—almost every mile has something unique to offer. People sometimes ask me if my shots are all in London and the answer is 99% of them are. The streets are so gorgeous—even in its rough state at times and it draws so much artistry from within for my creative process. Especially places like Shoreditch, which is where I shoot a lot of the time. I also love the abundance of culture in London. I love to explore cultures, people, and food, and London has a lot of that.
When it comes to menswear, where do you find inspiration? Are there any specific eras or niches that you draw from? How'd you find your personal approach?
I have always been a lover of menswear, but the Italian fashion with really defined shapes and cuts intrigued me. The Italians are super artisans, but I am getting inspired by the emerging and forward progression of the Asian/Japanese tailors.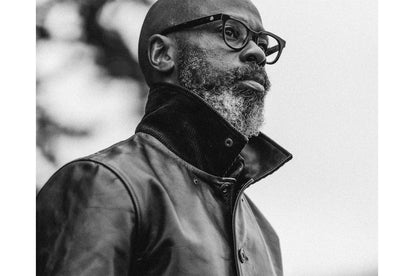 What is one piece of clothing that you can't live without?
That's a really hard one but a navy jacket can travel everywhere with me no matter the season. It's the gent's perfect complement to any outfit.
Lastly, what advice would you give to someone who's just getting into menswear and trying to find their own personal style?
Experiment. Try it out. There is a slogan I did in a lot of my past: wear it and own it. I just want people to be confident in their own growth and choices. Don't let someone's dislike affect your choices. Don't let that happen, and try everything until you feel comfortable as you can only get better. As my Instagram post would prove, form when I started to date, you can see the upward transition.