Originally from Cape Town, South Africa, Bertus knew he wanted to be a winemaker at the age of 15. He went on to study Viticulture and Enology at the University of Stellenbosch. His career has taken him through the cellars of Deetlefs Estate, Rupert & Rothschild Vignerons, Glen Carlou, Hess Collection, Chappellet, and Regusci. On top of his winemaking roles at James Cole, Tank Garage, and T-Vine, Bertus also operates Belong Wine Co. with his wife. His happy place has always been out in the vineyards; most days, you'll find him out there among the grapes rocking short shorts and a big grin.
We're super glad to have crossed paths with you (on a bike ride noless) a while back and have been stoked to keep the relationship going ever since. For those who aren't already familiaar with you, how would you describe what you do?
Firstly, thanks so much for having me! I am a huge fan of everything that Taylor Stitch stands for and all of the good work being done by the whole team! I make the wine for 3 wineries based in the Napa Valley where we collectively produce about 45 different wines each year. I am responsible for everything from grape to bottle, from finding incredible vineyard sites all across Northern California, building relationships with the grape growers and making the final call on when the grapes get harvested while navigating the challenges of the season. Once the grapes arrive at the winery I try to make sure we express those sites to their full potential. Outside of harvest we track and taste each lot once a month to make sure things are heading in the right direction until it is time to get the wine into the bottle.
When did you fall in love with wine? How'd that get started for you?
I have very fond memories of running around wineries and vineyards while my parents went wine tasting when I was a young boy. I went to boarding school in Stellenbosch, which is in the heart of South African wine country. Through my high school I was able to take a wine appreciation course in 8th grade (minus the wine tasting of course)! In 9th grade, I took an introductory class in winemaking and I was hooked. I loved the intersection of art and science, the room for creativity, the physically demanding process, and the incredible community. I chased the dream from there and went on to study winemaking at the University of Stellenbosch.
Tell us a little bit about where you're from originally and how you ended up in Napa. What was that journey like?
I grew up in Cape Town surrounded by mountains, the ocean, and vineyards. The vibe is very laid back, friendly and it is all about good food and having a good time. I remember graduating from university with a 5-year plan of traveling the globe and chasing harvests in different regions to gain experience before settling down and looking for a permanent position in South Africa. That was right when the recession hit in 2008. I was incredibly fortunate to be offered a position as Assistant Winemaker at Glen Carlou so I put my travel plans on hold. It wasn't until 2010 that I was able to travel to Napa for the harvest season. Within a week I had fallen in love with the area, the wines, the people. There was a youthful energy that I was drawn to. After cracking a couple of beers with James Harder and Jim Regusci and hearing more about their vision for the collective, I moved out here in 2012 to start in my current position.
Can you tell us a little bit about your style and how you approach making wine?
I love experimenting with different winemaking techniques, different grape varieties and grapes grown in different regions. We have worked with over 40 different varieties at the collective so I get to play mad scientist and figure out crazy combinations that might not be entirely "traditional" with the goal of making a delicious wine. I try to make wine with minimal intervention to let the vineyard and region where the grapes are grown shine through. I am very lucky that I get to play around with some crazy and rare varieties in California for Tank Garage Winery (Cinsault, Godello, Picpoul) while still honoring the classics like Napa Cabernet Sauvignon and Zinfandel for James Cole and T-Vine. My favorite variety to work with is Mourvèdre!
What advice would you give to someone who's looking to get more out of their exploration of wine?
Find your nearest small, independent wine shop and don't be afraid to try new things. Especially if it is a grape variety or region that you've never heard of. Get to know the staff and ask for their recommendations and always remember that it should be fun! Don't get overwhelmed by the minutiae and detail. Also, shop small and keep it local whenever possible. There is a huge breadth of small wine brands in California doing some really incredible things!
Of course, Napa is Napa and the mecca (at least in the US) for wine. Do you ever see yourself setting up shop somewhere else?
My wife and I love the mountains so I could definitely see us settling down in El Dorado County where we source the grapes for Belong Wine Co. The views from 2,800 ft elevation across the Sierras are incredible and being an hour from Tahoe sounds like a pretty good deal to us.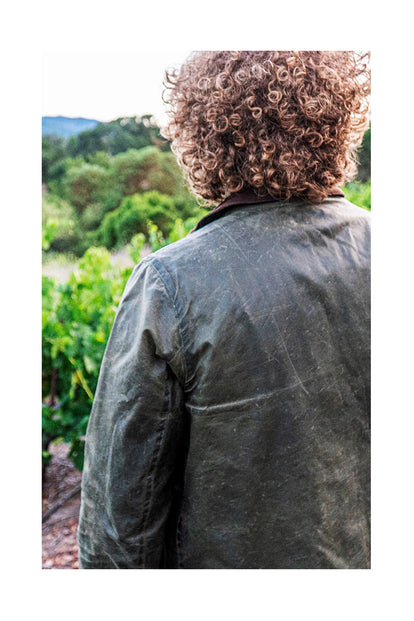 Any projects on deck that you're specifically inspired about?
Harvest is fast approaching and it is my favorite time of the year. I am really excited for the chance to make the second vintage of Chasing The Sunset Rosé for Belong Wine Co. from a beautiful young vineyard just outside Placerville. We also have a couple of fun things planned for Tank Garage but I am sworn to secrecy until they are released.