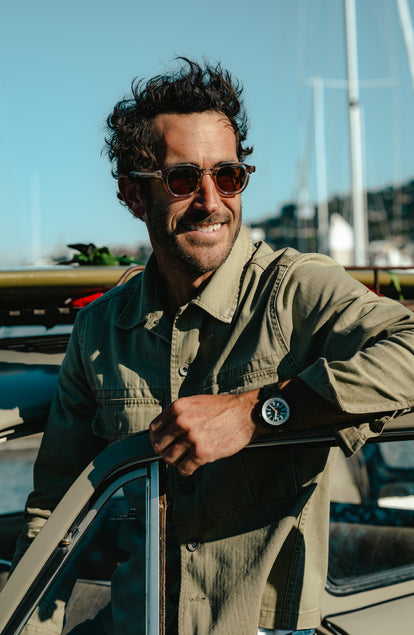 There is immense beauty in an old machine that you can simply clean, adjust, reoil, and off it goes like the day it was made. That's a massive human feat of engineering that should never be lost on us.
The Timeless Capsule — Heritage 1854
For over a year we've been scouring the globe with the help and stewardship of our buddy Ark Zaydman, the foremost expert we've ever come across in all things related to the rich history of Timex, to curate a special limited collection of vintage watches that we've launched as part of the Timeless Capsule. He's spent years digging through historical references studying their legacy of building some of the most dependable and timeless watches available and his project, Heritage 1854 (appropriately named after the year the brand was founded—originally as Waterbury Clock Company), is dedicated to celebrating and serving as a resource to a story that now reaches back well over a century.
We couldn't be more excited with the collection of watches that he helped us pull together for this special project and we recently had a chance to catch up and dig in a little deeper on what he's up to with Heritage 1854.
When did you start collecting and what got you started?
I would say that I really started collecting around 2012 or 2013. I had always enjoyed mechanical things and how they worked. There is something beautiful about a piece of machinery, big or small. It was very natural that I would find myself drawn to watches. For a while I was just buying up random, affordable pieces that would catch my eye. Things really went to the next level in 2015 when I stumbled across a couple of VERY beat up vintage Timex pieces. After taking an obsessive deep dive into the history of the brand, and how little it was talked about in watch collecting circles, I made it my personal mission to bridge the gap. The rest is history.
Do you collect outside of Timex pieces or do you stay focused purely on vintage Timex styles?
I definitely do! There are so many wonderful brands out there, and although my main trade is Timex, I think it's important to understand everything else that's happening in the watch world. I have several pieces, mostly micro brands, and even a handful of vintage Russian pieces that I wear very often.
What is your personal favorite in your collection? 
There is no tougher question you could ask. It changes with the seasons. I would say really though there are two watches I would absolutely never give up. One is the simple Timex Weekender my wife gave me on our wedding day. The other is this absolutely (monetarily) worthless no name, quartz piece that I remember my dad wearing when I was a kid.
Next question—what is your favorite Timex of all time?
Basically any Boy Scout variation, especially ones from the 50s. I was very fortunate to find two for this project in such great shape. Then there are the Southampton pieces from 1958. That was the only mechanical "chronograph" that Timex ever made. Finally, I think I'm really drawn to all of the Olympic branded Timex pieces from the late 70s into 1980.
What's the most interesting thing you've discovered about yourself through collecting?
Collecting has really helped me understand what quality over quantity means in my life. It has become a central part in the way I collect, as well as how I try to approach all things outside of that, including work, relationships, and the clothing I wear.
Watches are everyday tools at the end of the day. What is it about them that you find most interesting in a world where they could seemingly be replaced by modern technology? 
I think the answer is in the question there. They are everyday, timeless (no pun intended) tools. Watches are extremely purposeful and even though there have been several advancements over the barely more than 100 years that they've been on the wrist, the mechanical ones still work very much the same as they did all that time back. No matter how much innovation goes into digital machines, mechanical watches will always be there.
Finally, are there any unicorn watches that you hoped to find for this collection that might still be out there somewhere?
A really superb Southampton. The dials are smothered in radium paint, and because of this, there tends to be an intense radium burn in both the white and black dialed pieces. This, plus them only being out for one year makes it very difficult to find one that looks really good. Ultimately I would have probably been a little too nervous to include these in this collection.
Be sure to keep up with Ark and Heritage 1854 at www.heritage1854.com
and @heritagetimex on Instagram.