The great American artist Edward Hopper once said, "if you could say it in words, there would be no reason to paint." Looking at Shane Miller's "The West Winds," we have a newfound appreciation for Hopper's words. Within this 36" by 36" canvas, Miller transforms his simple subject—a dusty trail winding its way through the brush towards rolling hills in the distance—into something evocative and profound. Something, perhaps, beyond words: the mysterious promise of the unknown. What lies behind those hills? Well, the only way to find out is to press onward. The gloomy sky seems to brighten towards the horizon, urging us forward. Each time we revisit "The West Winds," we notice new details, but that same spirit—not of comfort or ease, but of promise—remains.
Miller, who was born in Maryland and is now based in Nashville, TN, and whose dreamlike landscapes are displayed, owned and appreciated across the globe, seems especially adept at using ostensibly uncomplicated subjects to articulate complex emotions and to provoke intense reactions. Though his work demonstrates a tremendous amount of tonal variety—both nature's serenity and its brutality are highlighted—it never fails to inspire reflection.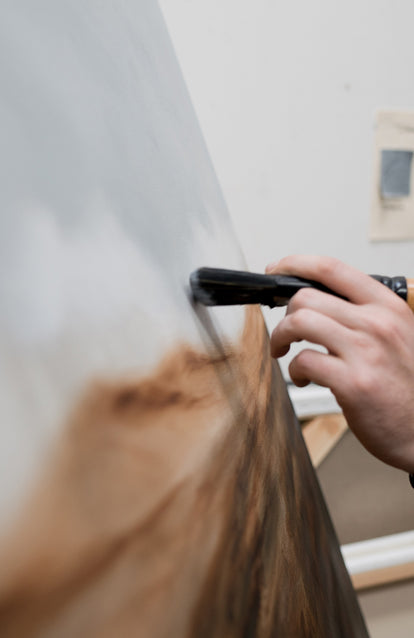 We commissioned "The West Winds" because we love Miller's work, and because we knew he'd be able to capture exactly what so fascinates us about its subject: The American Southwest, and specifically Arizona. The beguiling wonder of the landscape—not just its unique visual impact but also the powerful feelings its evokes—is present in every minute detail of the painting. We're no art critics, but as far as we're concerned, this is a work of art for the ages.
We couldn't be happier with what Miller created, and we're thrilled to be selling this one-of-a-kind painting on our website alongside a series of limited edition garment-dyed shirts that also draw inspiration from The Grand Canyon State: The Short Sleeve Jacks in Dusk, Cactus, and Terracotta. Each of these colors was developed with specific elements of Arizona's natural beauty in mind, and while we won't claim they're going to inspire deep reflection, they look and feel absolutely fantastic. Of course, because they're TS pieces, they're also more than rugged enough to accompany you on your journey past any distant hills you might come across—and well beyond that ever-tempting horizon.
You can find more of Shawn's work on his website, and shop The West Winds painting—