Few garments even come close to matching the versatility of the classic Oxford shirt. Straightforward, timeless, and comfortable, the Oxford has been a fixture of the shirting landscape for centuries. Instantly recognizable thanks to its distinctive basket-weave construction—which typically consists of interwoven white threads and colored threads—the Oxford deserves a place in every wardrobe.
From seasonal one-offs like our series of Brushed Oxfords to perennial staples like The Jack in Everyday Oxford (not to mention custom tailored pieces), we've been building Oxford shirts since the very beginning. Our love for this classic style should come as no surprise—balancing ruggedness, refinement, and (because ours are made with 100% organic cotton) Responsibility is what we're all about.
Oxfords are very, very seldom out of place. Casual, formal, summer, winter—they do it all without missing a beat. If you're not sure how to work this staple into your roster, don't worry, because we've tapped the expertise of some of our most stylish friends to help us showcase just what makes Oxfords so special.
Our buddy Andrew Haynes opted for a casual tonal look built around an ocean blue Oxford, which he paired with a blue t-shirt, blue jeans, and a woven black leather belt. Thanks to their heartier weave, Oxfords aren't as wrinkle-prone as other shirts, so don't hesitate to roll those up sleeves when the weather calls for it!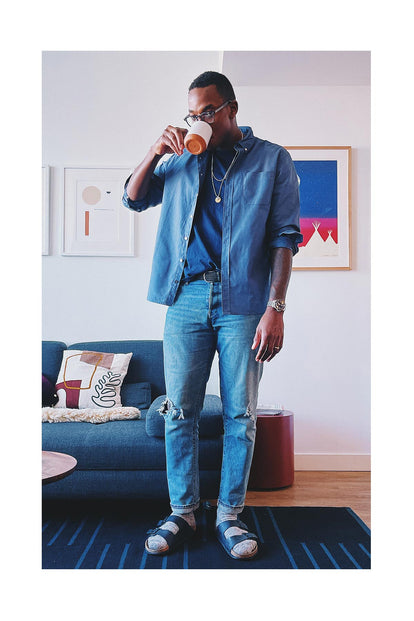 We caught up with L.L. Wood in his studio, where he was rocking a killer fit he'd built around The Jack in Army Everyday Oxford. We love this outfit because it really showcases the versatility of the Oxford: pair it with a baseball cap and it's as casual as can be; throw on some pleated trousers or chinos and leather loafers and you'll fear no dress code.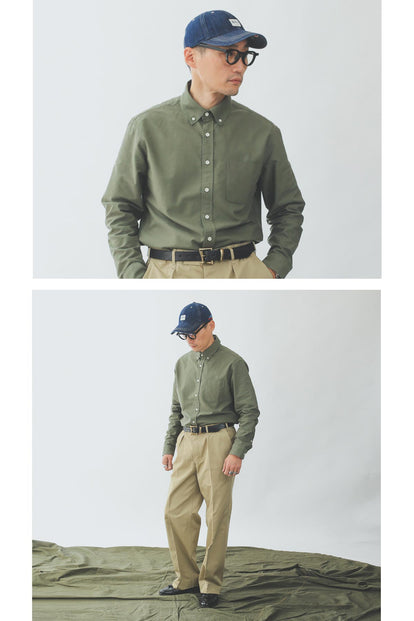 Finally, we asked our buddy Efe Efeturi to show us how he employs the Oxford, and—maybe it's the Englishman in him—it wasn't long before he followed up with a ton (or tonne) of amazing looks. First up, a casual fit built around The Jack in Charcoal Everyday Oxford, a rugged jacket, plus some light wash denim jeans and white sneakers. Certified fresh.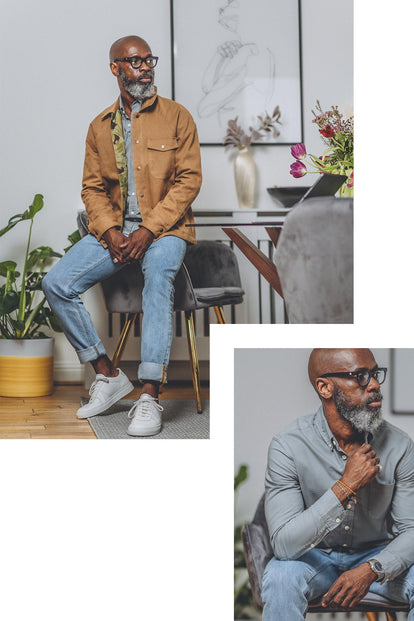 Efe took us on a tour of his neighborhood while rocking The Jack in Bay Mist Oxford, a garment-dyed edition of our classic Oxford that offers some killer nuance when viewed up close. He paired it with a classic camo jacket alongside some dark wash selvage denim and a pair of handsome leather boots for a look that's sure to turn heads.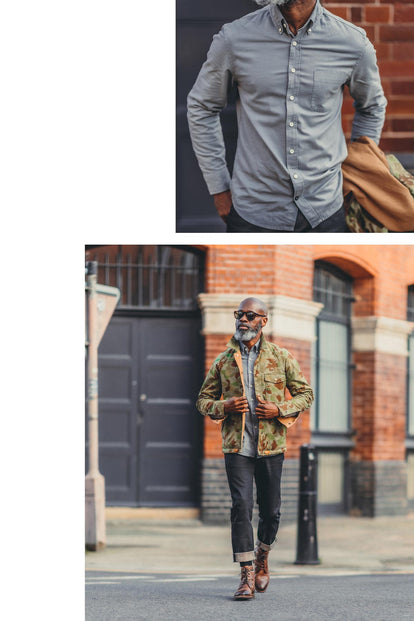 Next up, Efe showcased the versatility of The Jack in Black Everyday Oxford, which we keep In Stock year round. Black goes with just about everything, and yet we still find ourselves impressed by Efe's unique eye for color. Here, he's accented the low-key Jack with a show-stopping denim jacket (our Western Shirt Jacket in Indigo), khaki work pants in our legendary Boss Duck fabric, and The Moto Boot in Weatherproof Snuff Suede.
Finally, we've got another look that really demonstrates how effortlessly the Oxford shirt strikes a balance between formal and casual. Efe is a huge fan of color, so we weren't surprised to see him reach for The Jack in Dusty Rose Oxford (another in our line of garment-dyed renditions of this classic). He paired it with a classic field jacket, plus some navy trousers and sneakers. We love how the Oxford pops as it peeks out from under the jacket, adding a ton of character to what otherwise might be a more by-the-books look.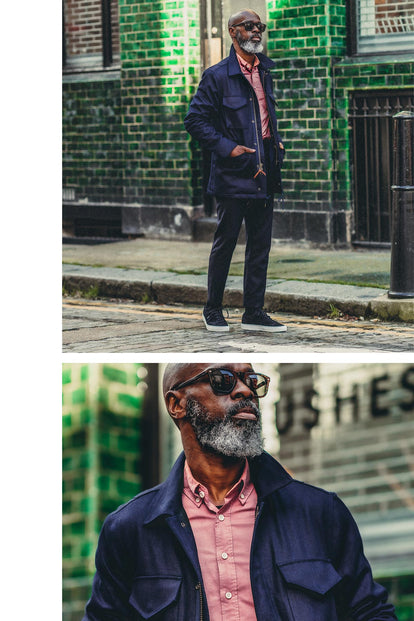 We don't know about you, but this post left us feeling inspired. If you've been looking to add some extra Oxfords to your collection—or you're taking your first leap into the style—be sure to check out our current range of options. There's plenty more to come, too, because Oxfords never go out of style.