Our travels and myriad adventures have found us crossing paths with some pretty incredible people, from artists to innovators to folks like Jeffrey Morganthaler, who is decidedly both.
Interior architect turned mixologist extraordinaire, Jeffrey has been making waves in the bartending world for years, and earning himself countless accolades and awards along the way. Beyond all of that, though, Jeffrey is a cool, down to earth guy with a passion for blending tradition and creativity to bring his craft to a whole new level.
Jeffrey did us the honor of creating a brand new cocktail inspired by TS, and designed to go great with holiday festivities. He calls it "The Flannel Shirt". We love the name, but the drink itself is something truly special; evoking the crisp yet cozy vibes of the season perfectly.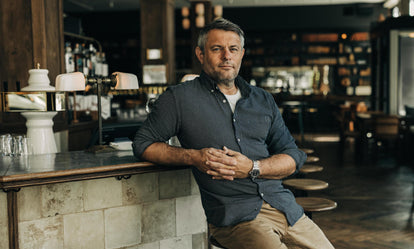 The Flannel Shirt
by Jeffrey Morgenthaler
With fresh apple cider, brown sugar and allspice, this smoky Scotch cocktail is an ode to the season.
Ingredients
1 3⁄4 oz/50 ml Scotch
1 1⁄2 oz/45 ml fresh apple cider
1⁄2 oz/15 ml Averna amaro
1⁄4 oz/7.5 ml fresh lemon juice
1 tsp/5 ml 2:1 Demerara syrup
1⁄2 tsp/2.5 ml St. Elizabeth Allspice Dram
2 dashes Angostura bitters
1 orange peel for garnish
Steps
Combine the Scotch, apple cider, Averna amaro, lemon juice, Demerara syrup, St. Elizabeth Allspice Dram, and bitters in a cocktail shaker or mixing glass.
Shake with ice cubes and strain into an old-fashioned glass filled with cracked ice.
Twist the peel over the surface of the cocktail and drop in the drink to serve.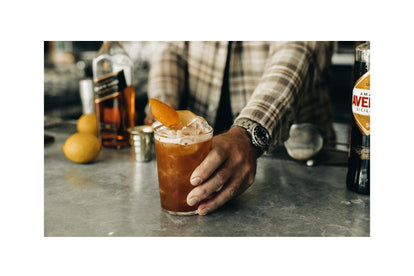 We were lucky enough to sit down with Mr. Morgenthaler for a deeper look into his craft and the one-of-a-kind personality behind it. Check out what he had to say and get ready to mix up a good time this holiday season. Cheers.
Q: What first attracted you to the art of mixology/bartending?
I started tending bar in college as a way to help pay for interior architecture school. Despite the fact that I wasn't initially very good at it, I stuck with it and eventually fell in love with the social aspect of the job. After I graduated my weekdays were spent in an architecture office, but I still worked the bar on weekends. I'd always been a passionate home cook, and quickly I learned that I could combine those two and build a real career behind the bar.
Q: Bartenders, much like barbers, inhabit a place both historically and in contemporary culture as a sort of local sage. Would you say that's true for you?
I've never really been that guy who was a "therapist" to everyone who walks in the door. I can't imagine having the bottomless emotional capacity for that. Instead I always fancied myself as a Sam Malone-type bartender from Cheers: let me help cheer you up and forget your troubles, instead of trying to solve them for you.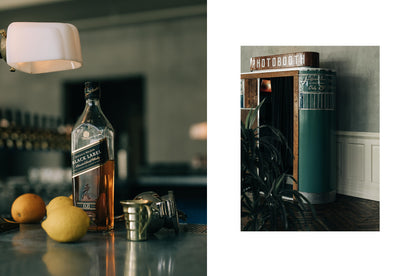 Q: What do you think makes the perfect cocktail? Is it totally subjective or are there elements that are more universal?
That's obviously in the eye of the beholder, but balance is such an important piece of the puzzle that if you don't have that part, you're not going to have anything. Outside of balance I think it depends on the drinker. Some people love a dry martini. I certainly do. But there was a time in my life when I would have rather had anything other than a dry martini.
Q: Has the culture of tending bar informed other aspects of your life like your style or tastes?
There was a very short stint where I thought I should wear a vest and/or suspenders behind the bar but that didn't last long. But in terms of my taste in food and drink, yes, absolutely. I've been exposed to so many more types of delicious dishes, wines, and spirits and cocktails than I ever would have been had I continued my career in architecture. I'm very happy about that.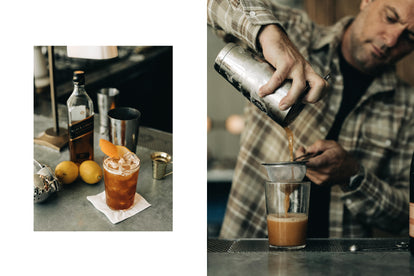 Q: Bartending, much like what we do at TS, is an art form rife with tradition. How does that tradition inform what you do today? Would you consider yourself more of a purist, innovator, or a bit of both?
Oh both, for sure. I think you and I are very similar in that way. My style of drink is very traditional, rooted in the classics. I really love the craft component of my job, making the same thing over and over until I get it right. But I also love finding innovative ways to do that. A lot of my techniques are found behind bars all over the world, and I'm so proud of that. I don't think I could ever be purely innovative; I think you need that dash of purist to keep you grounded.
Q: We're super excited to try the cocktail recipe you made for us! How did you come up with "Flannel Shirt"? Love the name, by the way.
Thanks, I love it too! This drink is really an ode to all things Fall. All of those flavors, slightly smoky Scotch whisky, fresh-pressed apple cider, brown sugar, allspice… It just knocks you over the head with autumn in a glass. I love it. And the name, I mean, what else could I have named it?! My favorite fall clothing and my favorite fall flavors.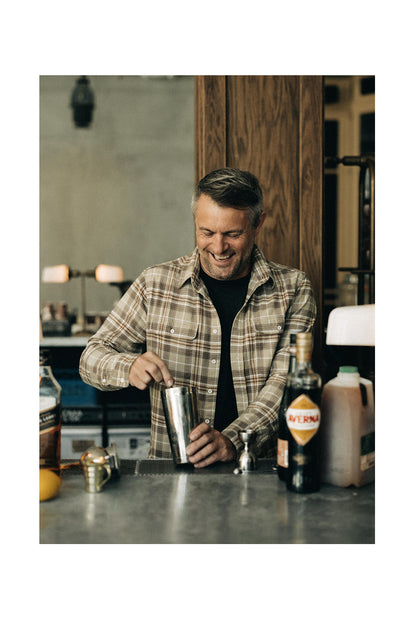 Q: Lastly, since it's the season—what's your favorite holiday cocktail?
Oh, that's an easy one: Eggnog. I'm addicted to every variation of it, from the stuff in a carton at the grocery store, to an eggnog latté at the coffee shop, and of course the really good stuff I make by hand at home.
On top of lifting our spirits with some artisanal spirits of his own, Jeffrey serves as a great reminder that mastery is a product of passion. Whether you're crafting classic menswear or mixing up perfectly balanced cocktails, doing it right means doing it with love, and sticking with it until you're happy with the result.
Thanks for the great memories and the killer cocktail recipe, Jeffrey. Hopefully it's not the last time we find ourselves across the bar from you.
Learn more about Jeffrey on his website or on his Instagram @jeffmorgen. And if you're ever in Portland, check out Jeffrey's own bar—Pacific Standard at the KEX Hotel.