Route 395
Living in a city of over ten million humans can be inspiring and often simply exhausting. I get through many a day in Los Angeles feeling the need for escape, in the mind, if not literally. The Highway 395 corridor in California follows the Eastern Sierras, and it is this stretch of road which serves as a regular escape fantasy for me. The 395 is close enough to touch, but AWAY. This vast corridor is too varied to ever know completely, and for that reason, it continues to inspire my escape fantasies no matter how many times I act on them.
The Summer in Los Angeles drags on like no other place I've lived. Fall sweeps in across the country, and here Summer's searing heat is replaced by Fall's searing heat. This year, with the oppressive temperatures of this Mediterranean climate sticking around the first reports of snow in the Eastern Sierras came in, and it is with that information that I knew it was time to escape the city and go East before the heavy snows cover and close all the high alpine trails. As much as I can get into a long solo road trip, I knew a couple of good friends were in need of scratching the same escape itch as me, and so I roped in Chris McNally, an illustrator, and the gifted gabber Moi Medina, a history professor.
As often is the case my Highway 395 escape fantasy revolves around legacy mountain bike trails. The whole escape crew grew up obsessed by mountain biking, and we ate up stories of the early years, the 1980s, when mountain bike races, like the Kamikaze Downhill and the Sierra 7500, were run in the Eastern Sierras. Over the Summer I'd heard a story about the earliest version of the Kamikaze Downhill, run for many years at the Mammoth Mountain ski area, which started as the Plumline Ultimate Kamikaze, and ran on White Mountain to the Southeast of Mammoth. With a little bit of knowledge about the route and a huge need to get the hell out of Los Angeles, my friends and I hit the road to make a pilgrimage to the place of our childhood mountain bike fantasies.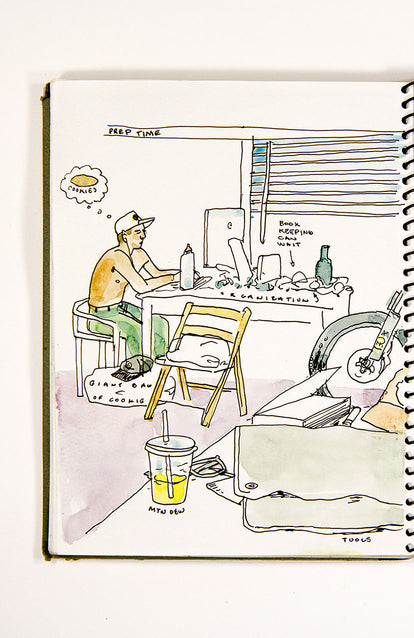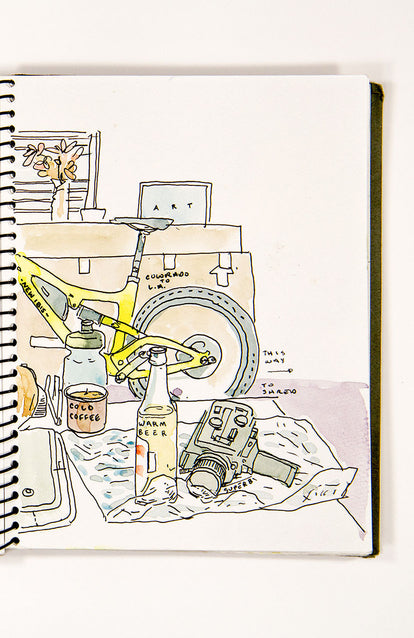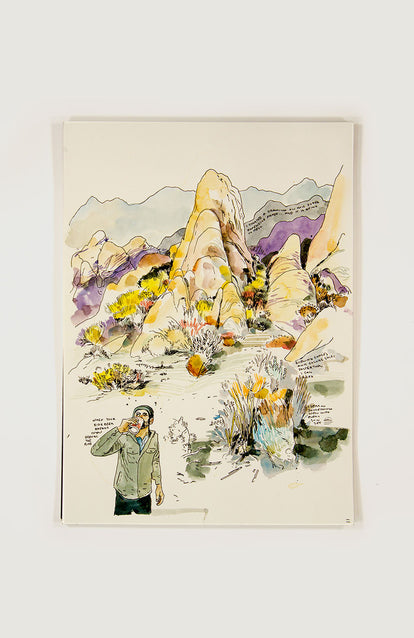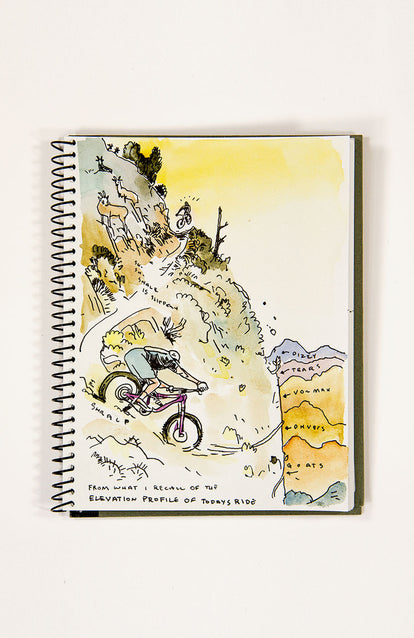 A good road trip starts with great expectation and ends in surprise, and this one was just like that. We started off hitting the ground in familiar places like the Alabama Hills and Mammoth Mountain, and then dove deeper into the backcountry further off Highway 395. Along the way we made an impossibly long and steep ascent of Silver Canyon Rd, which goes straight up White Mountain from Bishop (6,000 feet up in 10 miles), we soaked in natural hot springs, and as we ran into snow and a few closed trails at high elevation, we changed routes. It's a good plan to be ready to ditch your plan on any road trip, and with early snows closing the window on some of our Eastern Sierras trails, we headed Southwest and caught one last day of camping and riding along the Kern River. By the end of the week, we had satisfied our need to escape Los Angeles, and seen just enough to know we needed to come back.