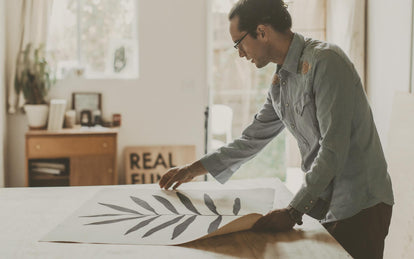 Unadulterated expression is pure medicine for the soul.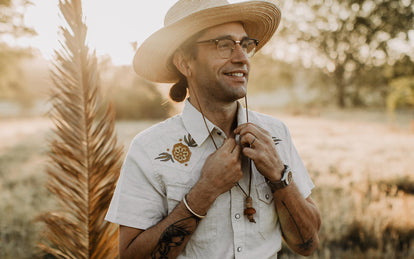 REAL FUN, WOW!  — Ojai, California
Our buddy Daren Thomas Magee is living, breathing proof that—in life, in art, in everything—it pays to go your own way. Like so many of us, he spent years trudging along in the nine-to-five world before discovering his true calling: illustration and design. After stints in Austin and San Francisco, he relocated to a more bucolic setting in Ojai, California. Inspired by his new surroundings, his longtime doodling hobby grew into something bigger and more meaningful, almost through sheer force of will: "I made a promise to myself that I would draw something everyday—I kept it up for years until it turned into a full-time profession!"
Finally given a chance to breathe beyond the bounds of the cities in which he'd been languishing, his talents blossomed and his output grew exponentially. All that was left was to name his new venture. He settled on Real Fun, Wow! after a partner uttered the phrase offhandedly during a late-night conversation. We think he chose well. This simple combination of words perfectly captures the ebullient energy that characterizes so much of his work. There's no doubt that Daren's work is fun (in fact, it's real fun), but the unmistakable undercurrent of genuine wonder—and gratitude—is what really sets his pieces apart.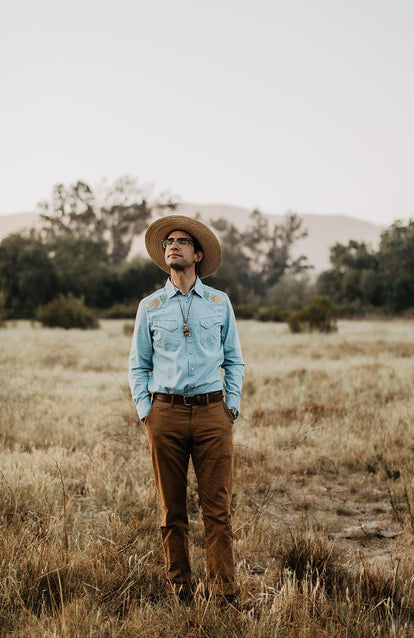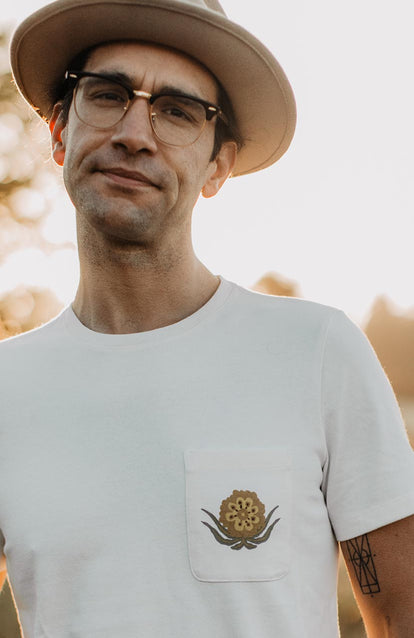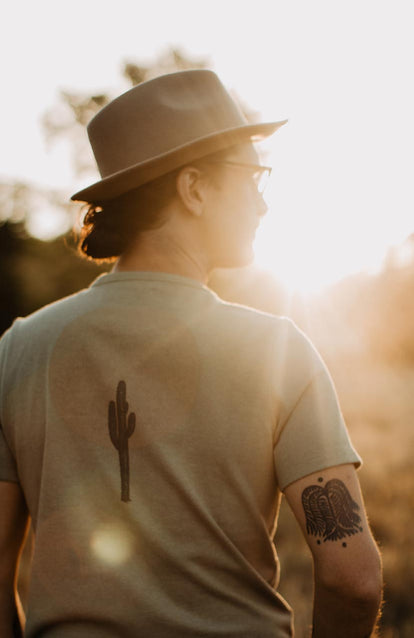 But, what exactly is Real Fun, Wow!? It encapsulates the entire breadth of Daren's creative output, from traditional prints to clothing to enamel pins and even a beautiful bound book. We love his style, which strikes the perfect balance between ordered elegance and freewheeling whimsy. Easygoing mantras like "GRATEFUL FOR IT ALL" and "JOY IS NOW" regularly crop up in his work, and speak to his one-of-a-kind perspective as both an artist and a human being. Of course, the man himself is happy to state things more humbly: "really, I am just a dude who loves to create and share my creations with the world."
These days, Daren is working harder than ever. As a self-professed introvert, the COVID-19 quarantine has given him a chance to refocus on his work and his personal wellbeing: "I've been putting more time into my health and wellness, taking much better care of myself." He's also kicked off a new podcast called Mystical Cynical with his pal Jaymee Carpenter, where they talk about friendship, vulnerability, and maintaining equilibrium in the modern world. Oh, and lest we forget, he's also managed to find time to collaborate with the team at Taylor Stitch on a brand new collection of gear bearing his inimitable designs. Before diving into The Real Fun Capsule, check out our recent conversation with Daren about his work and his inspirations—
---
Q: You have an iconic style that clearly draws influence in part from your adopted home in Ojai, California. Where else do you find inspiration for your work?
A: I really enjoy the art of observation. I pay close attention to the world around me. I notice things that I think others often don't. I find inspiration where others may not. From the art on the side of produce boxes, to old ephemeral objects, to old stamps on the sides of machines, I draw inspiration from places that aren't obvious to others.
Q: From entheogens to Mother Mary, spiritual, humanistic, and religious themes frequently recur in your designs. How did this come about?
A: Psychedelics play a huge role in my life. My life has shifted dramatically because of them. I think that they are the root of all we are, they contain not only the answers we need but raise the questions that we need to ask ourselves. I think religion is man's vain attempt at distilling and monopolizing what we all inherently have inside of us, or what is contained in the entheogenic substances that lay among us.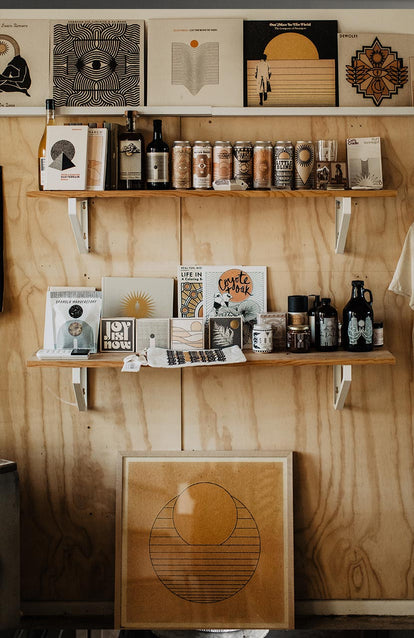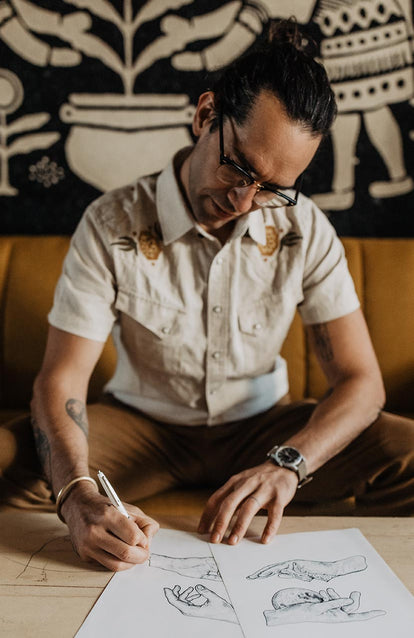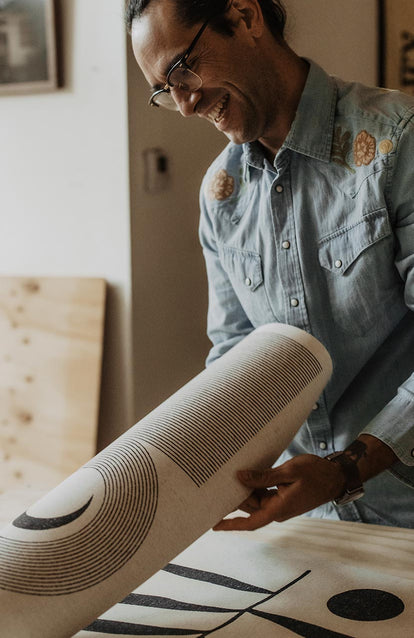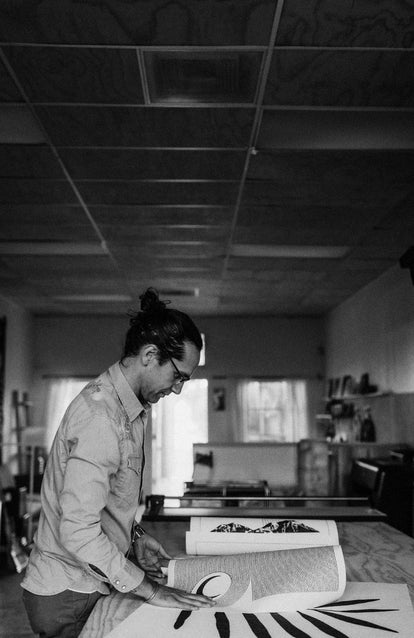 Q: The subject of your work is often natural phenomena symmetrically or geometrically placed with other graphic elements. What draws you to these types of compositions?
A: I find great pleasure in symmetry and order. It just appeals to me in a natural way. I am not sure that I can explain why, it just feels really inherent to my sensibility.
Q: Like us, you seem more drawn to natural tones and color palettes, especially those on the warmer side. Why?
A: They appeal to my senses. They are in line with the natural world. They compliment what is already around us. They don't stand out, they blend in. For me, they feel 'right', they aren't an invention of man, they occur organically and they are 'correct'.
Q: Is there anything you're reading or listening to that has been inspiring you recently?
A: I just got Action Bronson's new book, F*ck It, I'll Start Tomorrow, and it's really inspiring for someone who likes to write, but never writes. His stream of consciousness writing has opened my eyes to what's possible in terms of getting your story out there. It doesn't have to be polished, it can just be the truth, and it will resonate.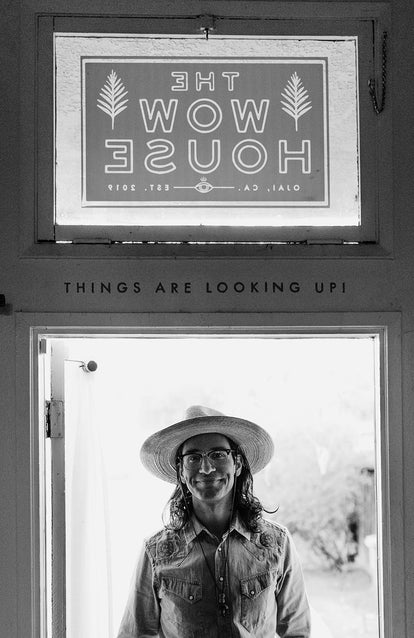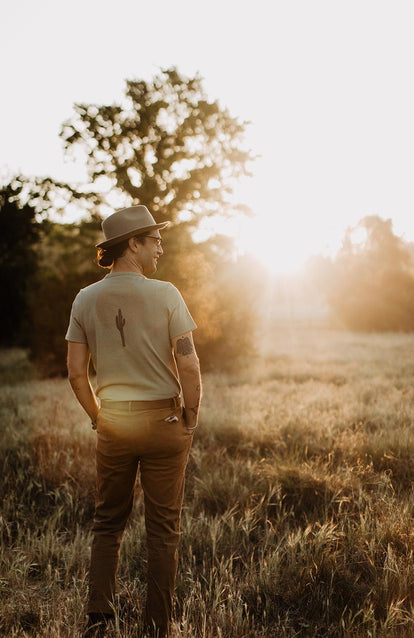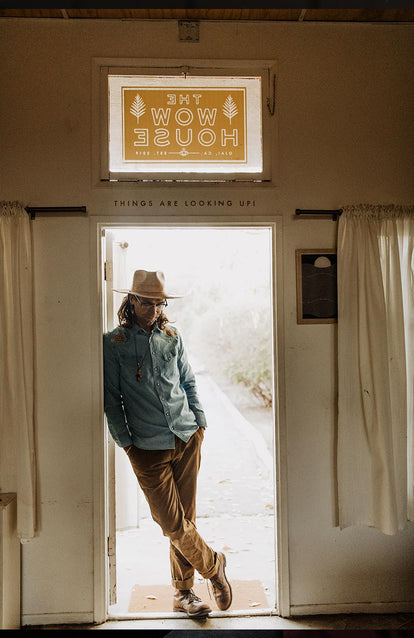 Q: Shameless plug: What's your favorite Taylor Stitch piece?
A: I got a natural Boss Duck jacket and pants that I care for like no other piece of clothing I've ever owned. At one point I misplaced the jacket and had an emotional few days before it turned up. It was concerning!
Q: What are you most grateful for since starting Real Fun, Wow!?
A: Freedom! Freedom of time and freedom of expression. My business has been structured in a way that I could, if I wanted to (though I don't), take off a large amount of time and do jack shit. Instead, I've been putting more time into my health and wellness, taking much better care of myself than I ever could when I was working 40 hours/week at a job I hated. I've also built up a large enough audience that supports and encourages me to speak from my heart and that level of unadulterated expression is pure medicine for the soul.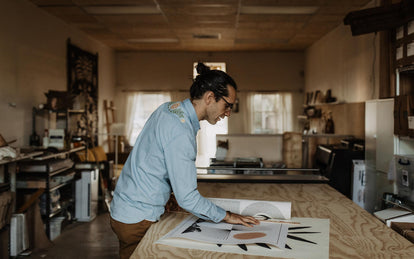 When we sat down with Daren to develop a collaborative collection, we wanted to hew closely to the principles that inform his work; simplicity, joy, and a respect for the natural order of things. We opted for classic TS silhouettes—two editions of The Heavy Bag Tee and The Western Shirt in both its long sleeve and short sleeve forms—and let the artist imbue them with his unique brand of magic. We're pretty confident that you'll agree when we say that all four of the resulting pieces are truly special. They're In Stock now, but like Daren's other work, they're sure to sell out fast, so if you see something that speaks to you, don't hesitate. And most importantly, have fun:
REAL FUN, WOW!  — Ojai, California