Meet Daren Thomas Magee
The Creator Of "Real Fun Wow!"
Last year's collab with Ojai artist/creator Daren Thomas Magee was a deeply impactful experience for us. Not only did we get to design some of our favorite pieces to date, we made a connection with Daren and his Real Fun, Wow! venture that has left an indelible imprint on us, changing the way we communicate with our own creativity. His prevailing attitude of gratitude and joy serves as a constant reminder for us to remember the things that are truly important (like peace of mind and a strong relationship to the natural world) and let the temporal problems and ever present stresses of the modern grind fall to the wayside, right where they belong.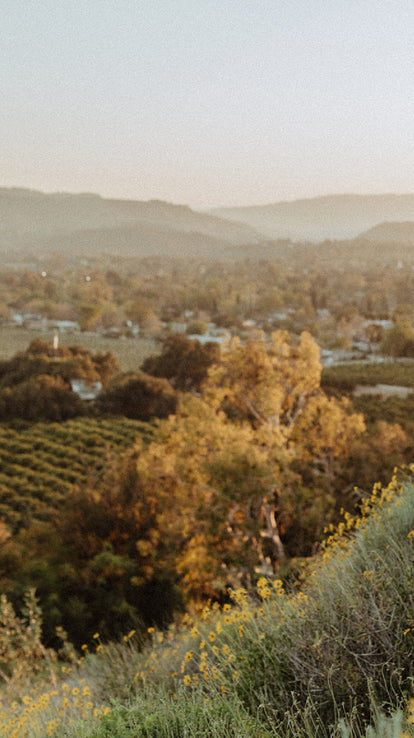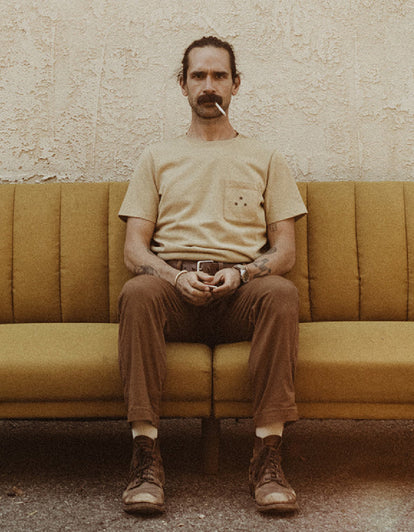 Daren spent many years languishing in the nine to five rat race before deciding to take the plunge, prioritize his core values, and following his joy. The ensuing journey found him bouncing from Austin to San Francisco, finally landing him in The Valley of the Moon, Ojai, California where he's thrived ever since. There, nestled amongst nature and surrounded by some seriously gorgeous views of the California wilds, Magee seeks a closer connection with his truest self and the teeming creative energy within.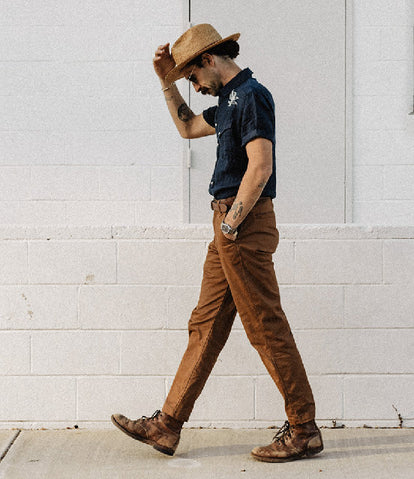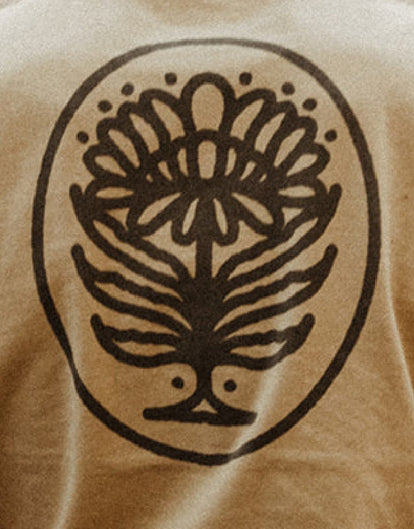 In his own characteristically down to earth words, "Nature provides the greatest inspiration for me. It has no ego…" That's a driving force we can relate with wholeheartedly. In the years we've been fortunate enough to follow our own passions, our ethos has evolved, and moving towards a symbiotic relationship with the environment we inhabit is at the heart of the TS you see today.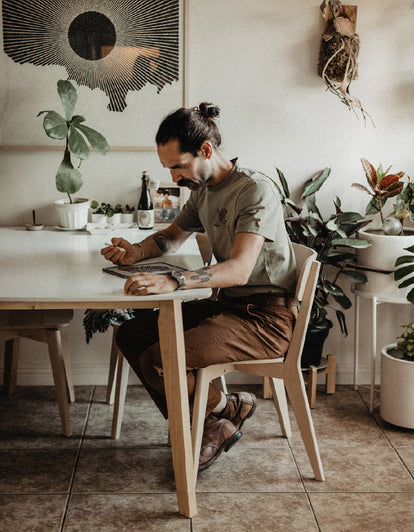 While Daren's zest for life and rich connection with the natural world are on full display in his art, we were lucky enough to sit down with the man himself to get an even deeper look.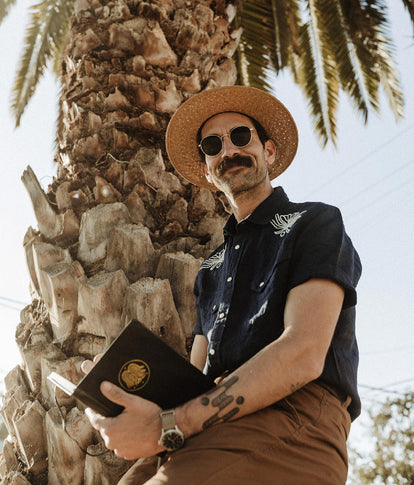 Being free of ego and thought, plants get to simply exist. I think that's so beautiful and I try to express that reverence in my work.
What have you been up to since we launched last year's project?
Nothing and everything. My life has changed in a pretty drastic way and it has opened up a significant amount of spaciousness. That has caused me to take stock in what I have available to me and what I want out of life. These are some of the biggest things I've ever had to consider and it has brought me to knees in humility standing before the unknown. Some days I am bursting with joy knowing I have all I need and other days I am absolutely stir crazy to the point of exhaustion questioning what the point of all of this is. So, you know, everything and nothing.
What are you enjoying spending your time most on right now?
Getting myself in the best physical shape I can. I am rounding the corner on 40 and I hope to be in the best shape of my life by then. I am well on my way to that. I have been sticking to a solid routine of physical activity and it's been really rewarding! Health is wealth!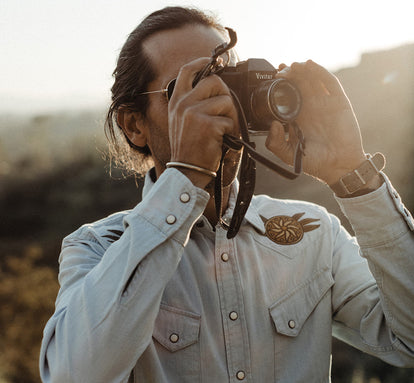 Was there any specific inspiration behind the artwork you created for this project?
I often look to the world of botany for inspiration artistically and spiritually. I think of how simple the life of a plant is. Being free of ego and thought, plants get to simply exist. I think that's so beautiful and I try to express that reverence in my work.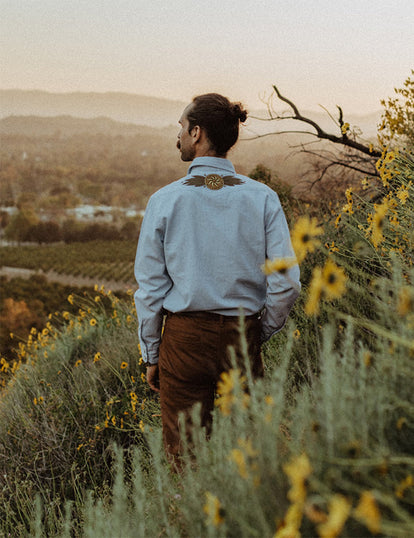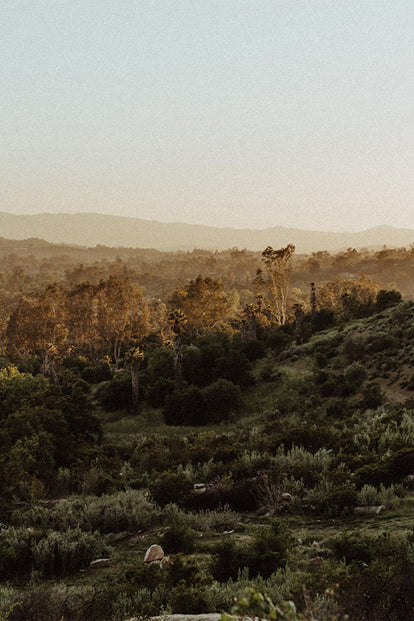 You're creating a lot of your own new products through Real Fun, Wow! What are some of the things you're most excited about as you grow that offering?
I feel like I have finally come around to accepting that Real Fun, Wow! Is a legit brand. Something beyond myself as 'Daren the illustrator'. So I am trying to lean into it more by expanding my offerings while also being mindful of the fact that we don't need more 'stuff' in the world, so giving deep consideration to what I decide to produce. I want to produce more heirloom products, something that your kid would be excited to inherit from you when you're out of the possessions game.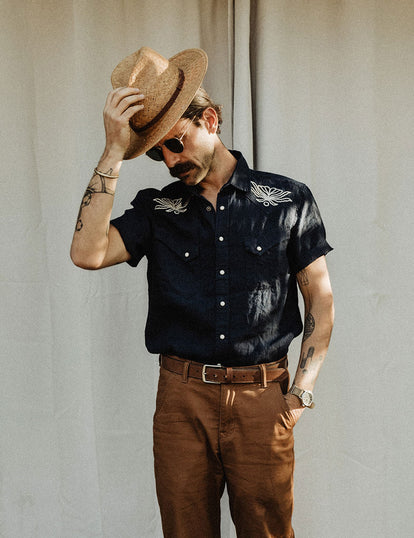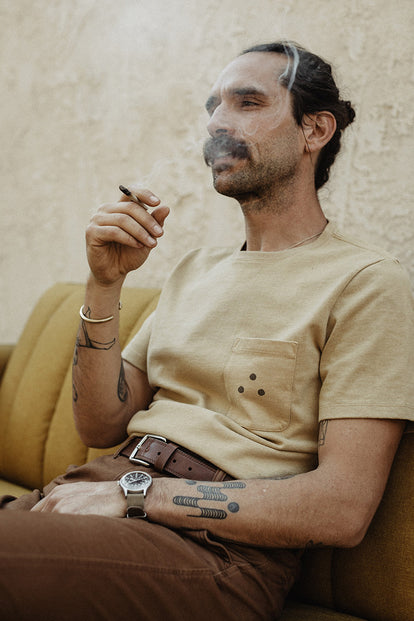 This time around, Magee's inimitable designs will be adorning two fresh iterations of our beloved Western Shirt (in both long and short sleeve styles) as well as two custom colorways of our legendary Heavy Bag Tee. Last year's pieces sold out in record time, and it's no wonder why. Daren's creative talents and our commitment to honor them with peerless tailoring and Long Haul craftsmanship has proven to be quite the winning combination. The entire collection is In Stock and ready to ship, so if you see something that speaks to you, we'd recommend striking while the proverbial iron is hot.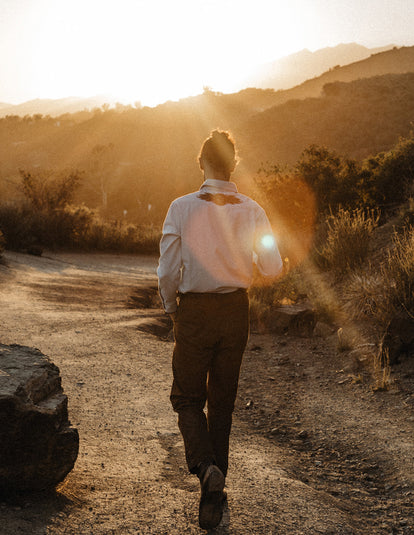 Visuals — Jess Purple / Daren Magee
Words — Joe Bitton