Our passions are manifold, but we'll always have a special place in our hearts for surfing. Few things compare to a day out on the water, and as far as we're concerned, everybody should try it at least once (don't be surprised if you end up hooked, though). Surfing centers us, tests our mettle, and reminds us how important it is to protect the natural spaces that we cherish. Suffice it to say, we couldn't be more thrilled about our collaboration with Grain Surfboards.
Like Taylor Stitch, Grain hails from Maine, and the similarities don't end there: they believe in building quality gear that lasts for decades, and they're dedicated to executing that vision Responsibly. Sound familiar? We became fast friends with the team, not only because they're awesome human beings but also because we're kindred spirits fighting to better our respective industries.
The collaboration itself is unique—rather than develop a collection of clothing, we built a one-of-a-kind surfboard. This unique edition of Grain's signature Sapling board is built by hand with white northern cedar and features some classy collab branding, plus handsome inlays cut from our signature, responsible Boss Duck blend. That last detail was spur of the moment—with no extra Boss Duck yardage on hand, they improvised and "edited" a well-loved Project Jacket. That's right: blood, sweat, tears—plus the very shirt off Grain's back—went into this collaboration.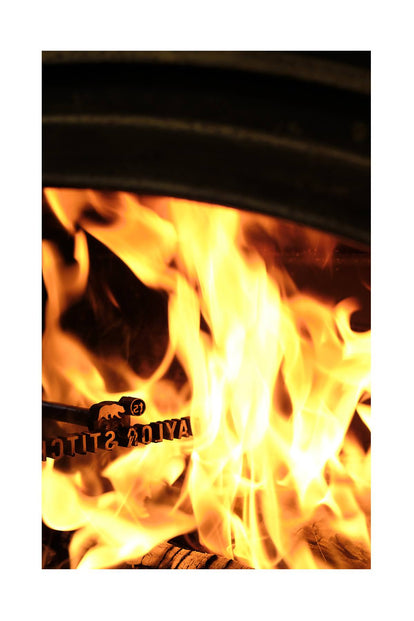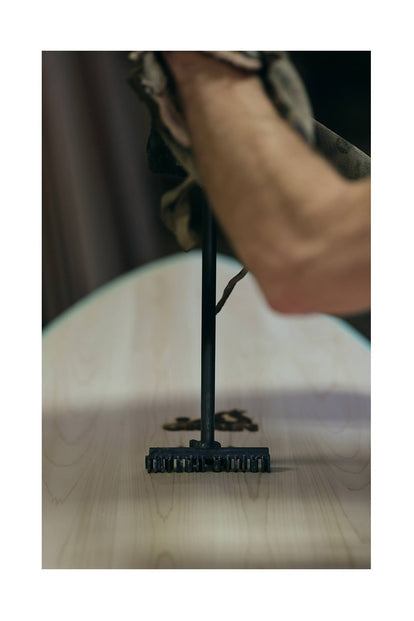 Alongside the rugged, Responsibly Built Boss Duck detailing, this exclusive board also features Grain's unique Greenrail construction—a solid perimeter rail made from 100% recycled plastics. Plastic's toll on the environment is well-documented, and its impact on our oceans is especially severe: eight million tons of plastic are dumped into the world's oceans each year, destroying the marine environment, threatening underwater life, and contributing to climate change. This one's personal for surfers, and we're stoked to join forces with another brand that's pushing to tackle the plastic problem before it's too late.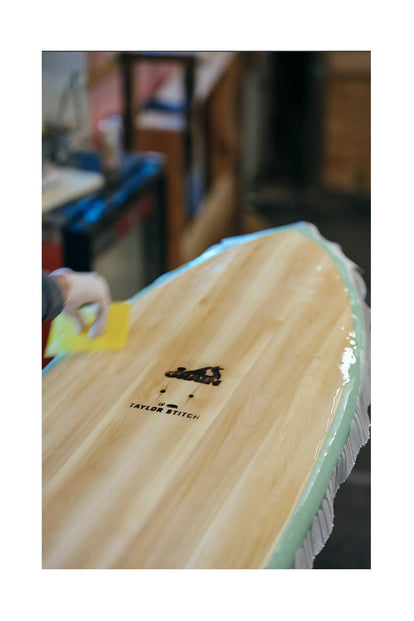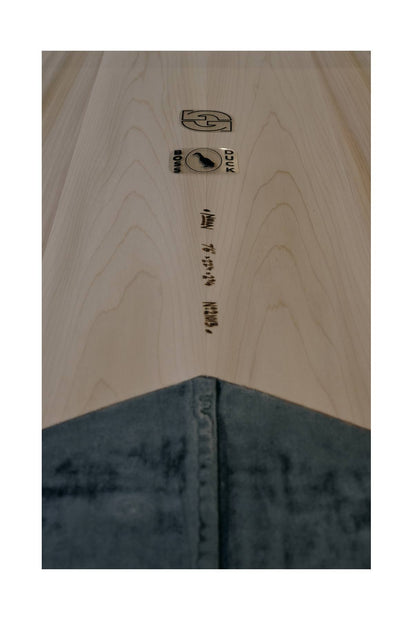 To spread the good vibes far and wide, we decided that rather than selling or auctioning off The Sapling with Greenrail Construction, we're gonna give it away. That's right—one lucky winner will walk away with this hand-built, one-of-a-kind board free of charge. All you have to do to enter is follow @taylorstitch and @grainsurfboards on Instagram, tag two of your buddies on the post, and submit your entry here before the April 30th cutoff. Everybody can get in on the fun, from first-time surfers to lifelong devotees—all we ask is that you put The Sapling to good use. Good luck, and stay tuned—we'll announce a winner shortly after the promotion ends!