Growing up in Southern California, our buddy Kyle Titterud learned how to recognize quality craftsmanship from his grandmother, who dealt antiques. Before long, he decided to become a builder himself, and these days he's a lauded furniture maker with his own studio: Stille Design. We share a lot in common with Kyle, so we recently sat down for a Q+A to learn more about his philosophy, his influences, his favorite gear, and more.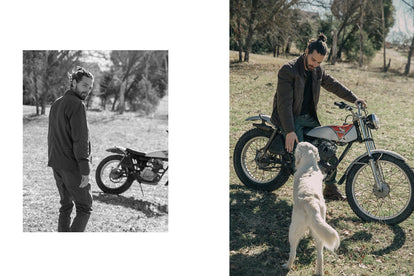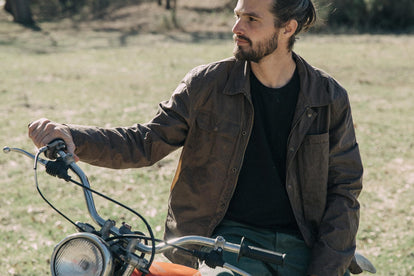 Kyle, thanks for taking the time to sit down with us. For those who aren't already familiar with your work, could you tell us a bit about yourself and what you do?
I grew up in Southern California with my grandmother who was an antique dealer. So, at a young age I was very inspired by true craftsmanship and that influenced me probably more than anything else. I started building nearly ten years ago, but recently moved up to the central coast to live out my dream of building my own Nakashima compound! So now I build furniture in my rebuilt 1920s barn that's powered by solar panels. The goal is to use only fallen trees combined with traditional joinery to be as carbon neutral as possible.
What initially led you to pursue a career in furniture design? What about Danish and Japanese design influences your work in particular?
My grandmother absolutely. She taught me what to look for in antique furniture and why and how things were made with so much more integrity back then. This obsession with quality and attention to detail led me to start making my own. My family is from Norway, so I've always been fascinated with Norwegian and Danish culture. I spent some time in Norway and that really shaped my design style. I love reading about iconic craftsmen and designers. It was George Nakashima who really got me hooked into Japanese joinery. The combination of these influences have taken me to where I'm at today.
Being builders of timeless pieces ourselves, we were naturally drawn to your enduring sense of style. Was your aesthetic something that came natural to you, or did it take time to truly hone in on?
I think a true aesthetic is a bit of both. There is an element that has been with me since those antiques in my childhood, but my style now really did get refined after my time in Norway and Japan.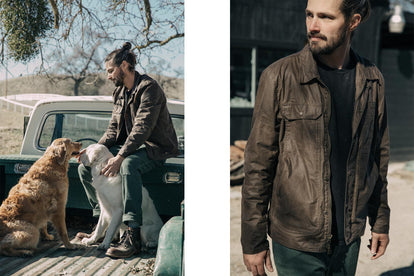 Do you find any parallels between the way you dress and your artwork?
Absolutely, when I honed in on my style I pretty much started dressing the same way. I love something simple and timeless with high quality that will last.
We love getting to ask other creatives this question: do you have a favorite piece that you've built, or is that too hard to say?
Haha, that's tough, I love creating tables since it's something that brings everyone together. To me a good table is the focal point of every household.
What do you enjoy most about living on the Central Coast ('Slo Coast')?
The space for sure. I can ride motorcycles with my Goldens and build all day long. And the people, everyone here is so nice and keeps to themselves.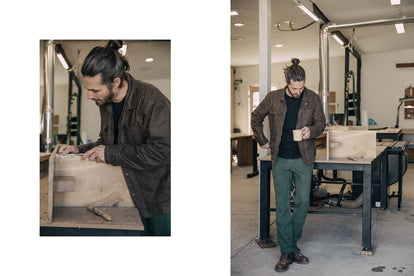 Our motto is 'Built for the Long Haul.' Yours is 'Built to Last Generations.' What's the importance to you in designing home goods this way?
I think anything really good should be built to last. So many industries, including furniture, have focused too much on quantity over quality. Furniture, like clothing, can and should be something you hold onto.
What's one article of clothing you can't live without?
Honestly that's a tough one, I need a good work pant, but I also couldn't get through all the work on the ranch and building furniture without a warm and reliable jacket!
Alright, last question. What's next in your career? Are there any projects that you're especially psyched to work on in the near future?
Oh yeah! As I was building up Stille I was the head baker and co-founded a bakery in Orange County. I left that to focus all my attention on furniture, but I now have this great opportunity to open up our own brick and mortar as a coffee shop, sourdough bakery, and showroom in San Luis Obispo!